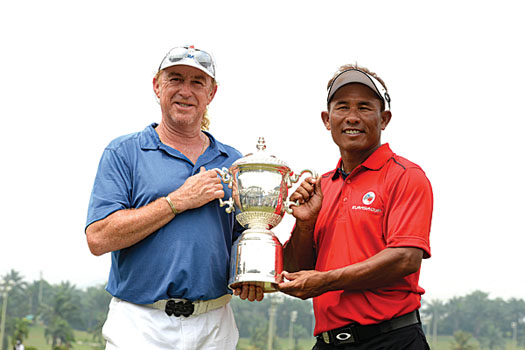 Thai star Thongchai Jaidee, the only player to win three Asian Tour Order of Merit crowns, is poised to make the International Team for the Presidents Cup against the United States in Korea in October. In this Q&A, he talks about the prospect of making his debut in the team event and how the Asian Tour has pushed him in his highly decorated career.
What are your thoughts the prospect of making the International Team for the first time for the Presidents Cup?
I'm thrilled and excited with the opportunity. I've played in almost every major golf event and the Presidents Cup is one of the last on my to-do list to tick off.
With the Presidents Cup being held in Asia for the first time, how do you think this event will impact the development of the game in this region?
Of course this will help boost the exposure of the game and create more attention. We need to have more of these events in our region. It has been getting better every year. We now have PGA TOUR, European Tour co-sanctioned events with the Asian Tour in Asia plus the WGC-HSBC Champions as well.
Have you been pleased with how you've performed this year where you've got two runner-up finishes, including at the BMW PGA Championship in England?
Yes I am definitely happy. Winning an event would be better but I'm happy with my performance so far.
At 45, you're the oldest player in the current top-10 of the International Team rankings. How do you think you can contribute to the team in Korea?
Apart from my playing abilities, I can be a mentor to the younger players. My experience can help in planning our strategies.
Not to labour a point, but you're also the oldest player in the world's top-50. What keeps you going in this game and how do you maintain your good form at this age in a game which is getting younger?
I stay fit and eat healthily. I always find myself outside of golf to relax too and that gives me comfort and less pressure.
Pages
Click here to see the published article.