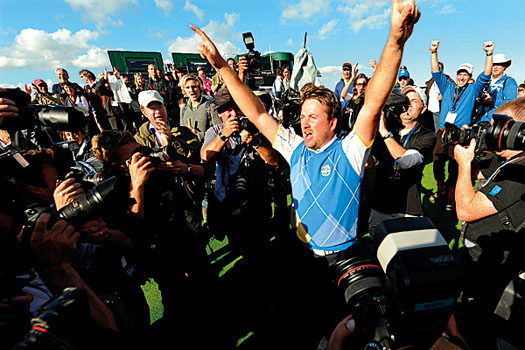 For the purposes of the extra holes, the pair returned to the 18th, a pretty par-four on a shelf below the clubhouse. They played it over and over – and over again. For the spectators, it was like a series of glorious encores as the two knocked their approaches ever closer to the pin.
At the third time of asking, it looked as if Singh had won the day. He had hit his seven-iron to three feet, perhaps less. It seemed impossible that McDowell could so better but, as he remembers, "I was up for it ... I hit my seven-iron inside his. He missed – and I holed."
When, two years later, he won his US Open at Pebble Beach, McDowell was able to see off the triumvirate of Tiger Woods, Phil Mickelson and Ernie Els. His play was no less riveting than it had been at the end of that Ballantine's event, while he by then had enough in the way of experience to refuse to allow "the hype that goes with a major" to get to him.
He counts his blessings every day for that win on the California coast, but admits to frustration at having failed to net a second major when he was so well placed on the Saturday night both at this year's US Open and Open Championship.
As he left Lytham, he had bracketed these twin disappointments as "the kind of learning experiences that money simply can't buy."
Immediately prior to last month's PGA Championship at Kiawah Island, McDowell explained that he had identified what the lessons were.
"It had nothing to do nerves or pressure getting to me," he said reassuringly. "It had more to do with my pre-shot routine. I was not executing it as well in the heat as I do on a Thursday, a Friday and a Saturday." McDowell would finish the final major of the year in a tie for 11th, eleven strokes behind his good friend and compatriot Rory McIlroy. The big individual events out of the way, focus has now of course switched to the Ryder Cup, an event which means so much to the Europeans.
Pages
Click here to see the published article.