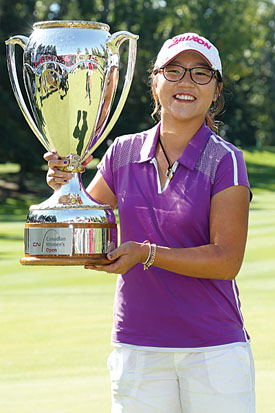 If prodigious talents are in fact born and not made, then the golfing gods looked down with an even greater smile than the young girl staring back.
It was a chance meeting that introduced a five-year-old Lydia Ko to golf 11 years ago, but now she sits atop of the amateur world rankings, dominating a game she once knew nothing about.
Lighting up the sport with her infectious smile and enviable talent, the 16-year-old South Korean-born New Zealander still retains the childlike laissez-faire attitude that has contributed heavily to her global appeal.
"For Lydia, it is just a matter of hitting balls," insists Guy Wilson, Ko's coach since the age of five, and a driving force behind her success.
Flicking the golfing switch in Ko was her aunt, Insook Hyon, who handed the wide-eyed youngster a putter and a 7-iron. The rest as they say, is sweet golfing history.
The bespectacled teenager, as many forget she still is, has earned praise from figures such as Tiger Woods and Michelle Wie, and through her performances ensured the words of acclaim didn't fall on deaf ears.
Scoring professional wins at the Canadian Women's Open, NSW Open and the New Zealand Women's Open ensured Ko broke a host of records for youngest winner in the sport, along with her US Women's Amateur victory a year ago.
But is holding the mantle of the most talented teen in golf a burden too heavy to carry for such young shoulders?
"Lydia is not at the point of putting bread on the table, she is just trying to learn and play her game," says Wilson, director of instruction for the Institute of Golf in New Zealand. "It will change when she turns professional when money becomes an issue but at present she is just enjoying the freedom and keeping her focus on the golf."
Wilson, based on Auckland's North Shore, carries the weight of nurturing the most exciting talent in the game. Words of praise are often transparent, entirely groundless on many occasions, but with Ko, actions always speak louder.
If players such as Little Lydia, as she's affectionately known back home, come along once in a generation, then mentors such as Wilson are of equal standing within the game.
Pages
Click here to see the published article.