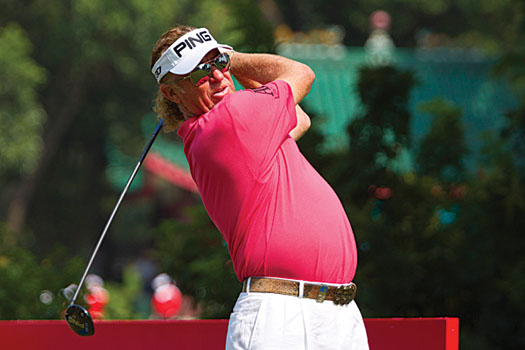 It is three years now since Miguel Angel Jimenez and I last sat down to chat as a pair of 48-year-olds just before the Abu Dhabi HSBC Golf Championship. We have both since passed our 50th milestones. For me that meant an enjoyable trip to Royal Porthcawl with my media colleagues, for him… well, nothing has changed really, other than that he is now eligible to compete with the 'round bellies' as well as the 'young guns'.
He has shown no signs of slowing down, adding three more titles to his CV, with victories in the Hong Kong Open in 2012 and 2013, before finally capturing his national Open last May at PGA Catalunya, where he saw off Richard Green and Thomas Pieters - a Belgian some 28 years his junior - in a play-off. Each of these wins broke the European Tour's 'oldest winner' record. Victory on his 27th attempt at the Spanish Open made him, at 50 years and 133 days, the first man to win on the European Tour in his fifties.
He has also won both of the Champions Tour events on American soil he has so far played, with a wire-to-wire victory in last.
Pages
Click here to see the published article.