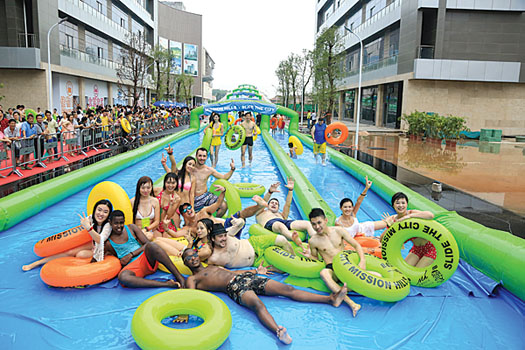 Around 30,000 visitors poured into the Mission Hills Centreville complex over the weekend of 15-16 August for its massive carnival party, the main highlight of which was Slide the City, the world's longest water slide at 300 meters.
Having toured cosmopolitan cities like London, New York and Toronto, this weekend was Slide the City's first appearance in China. To accommodate the full size of the triple-track water slide, it was laid out along the venue's main road, and guests experienced the adrenalin rush of zooming along its slippery track for a full 300 meters, or the length of three football fields, contained safely within inflatable borders.
There was plenty for guests to do in between slides, as Mission Hills had taken full advantage of the sunny summer weather and transformed the venue into an expansive fairground with over 100 carnival stalls by international vendors. Guests could shop for trinkets, enjoy freshly-prepared gourmet food, cool down with a drink, or try their skills at dozens of games, including larger-than-life, inflatable versions of basketball, darts and soccer.
Pages
Click here to see the published article.