You joined Clearwater Bay in April. How have you enjoyed the first six months?
Clearwater Bay is a truly special place. The membership and staff are fantastic and it is a real pleasure to come to work everyday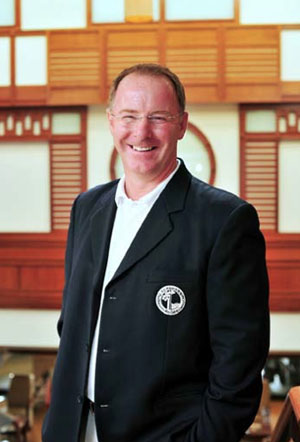 Who is your biggest inspiration in golf?
My biggest inspiration as a child was Seve Ballesteros. I use to love watching the way he played golf. He would take on every shot and was never the type of golfer to try and play conservatively. An extremely exciting player to watch and an inspiration for millions of golfers around the world.
What's your favourite hole at Clearwater Bay?
It has to be the third. It is our signature hole and there is a reason for this... it is a truly awesome golf hole! The wind plays a big part and the tee shot can be very intimidating. The hole plays differently every time and it can bite you very quickly as there is trouble everywhere.
What's the most unusual thing to have happened to you on the course?
Whilst I was working in Lahore, Pakistan I got to play quite a lot of golf with the President. During one particular round I started off with three birdies and was lining up my birdie putt on the fourth hole. The President asked if I was feeling OK and I asked why. He informed me that at that moment in time I was in the crosshairs of about twenty snipers on the rooftops around the hole. I looked up and saw the snipers all pointing their guns towards me, which was a bit of a strange feeling to say the least. The President asked me to now try and hole the putt. I stood over the ball thinking about the guns pointing at me and then, of course, missed it.
What's your favourite course outside of Hong Kong?
It has to be the Majlis Course at The Emirates Golf Club in Dubai. It is a real gem. You have to play there if you're heading that way.
If you could change one of the Rules of Golf, which one would it be and why?
Not being allowed to have a mulligan! Seriously, the Rules of Golf are extremely fair and the R&A works hard to ensure that the rules are kept up- to-date with the changing times.
Most common mistake you see amateur golfers make?
Bad course management is a very common mistake, especially around Clearwater Bay. Many amateurs will try to take on the "miracle" golf shot, which they might pull off once in every one hundred attempts. Play smarter and you will score better.
Dream fourball?
Jack Nicklaus, Tiger Woods and Seve.
Masters, US Open, Open Championship or PGA Championship—which major would you most like to win?
If I had a choice in the matter I would win the Open Championship at St. Andrews by holing a putt on the last for a birdie three to beat Tiger Woods. OK, enough dreaming! The Open Championship is the one that every professional golfer dreams about winning.
Who's your money on for the UBS Hong Kong Open?
I think Miguel Angel Jimenez has a great chance of repeating his victory.
How do you unwind?
I like to spend time with my family and friends. I have two sons, Jack (aged 3) and Josh (2 months). They keep me on my toes so I don't have too much time to unwind.
Biography:
Place of birth: Carlisle, Cumbria, England
Age first picked up a golf club: 14
Turned Pro: 16, two months before my 17th birthday
Career: General Manager/Director of Golf (Beijing)
Director of Golf (Pakistan) Golf Operations Manager (Dubai)
Director of Golf & Recreation (Saudi Arabia)
 
Click here to see the published article.