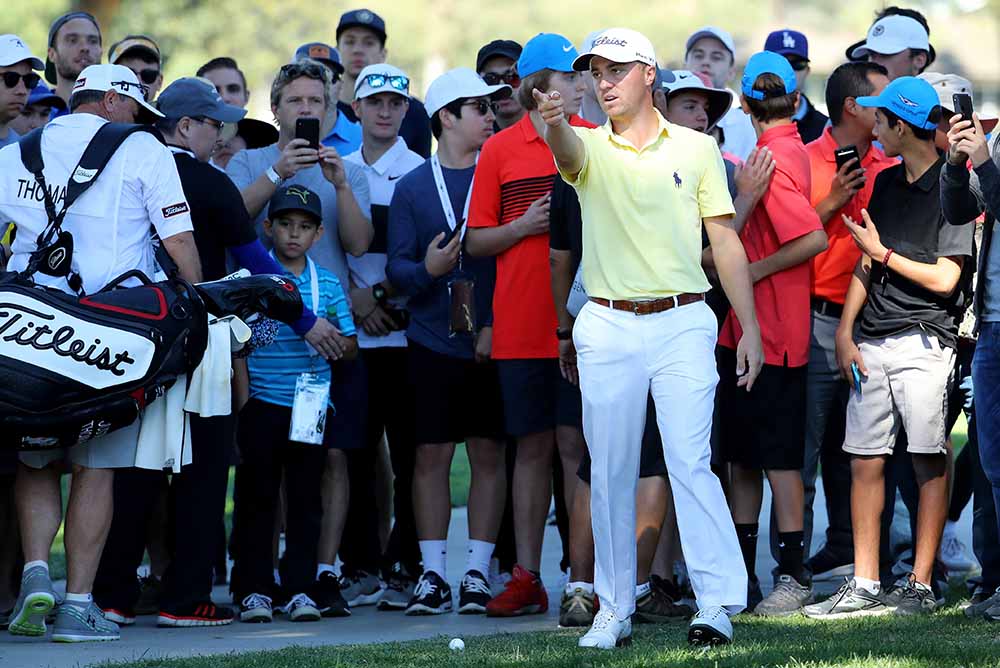 Imagine an English Premier League match between Liverpool and Manchester United, the Old Trafford outfit winning a last-minute penalty in front of an outraged and uproarious Kop. Spot-kick-taker Romelu Lukaku is pleading for silence before lining up his attempt on goal, or complaining to the referee about the inevitable jeers, boos, brickbats and insults during his run-up as he attempts to snatch three vital – and potentially championship-winning – points for the Old Trafford Outfit.

Or Roger Federer is stopping play and pleading for calm during a vital rally in the final set of the Wimbledon final against his archrival Novak Djokovic with the US$3million winner's check and world number-one ranking up for grabs.
Yet, that's exactly what is emerging in men's professional golf. Current world number-two Justin Thomas bleating on course and later in the media room about audience participation at the Genesis Open. Rory McIlroy also claimed the galleries following gave him a headache and that he needed, "A couple of Advil," to combat fan behaviour on course.
And all because of a few rowdy fans - or for the sake of argument, let's call them paying customers - whooping and hollering. Albeit mindlessly as this richly talented and even more richly-rewarded young man out of Louisville, Kentucky went about his business on the tees and greens of the luxury resort that is the Riviera Country Club in California in February, he might be well advised not to bite the hands that feed him.
"I guess they just think it's funny," said the 24-year-old, adding, "It was pretty wild [those] first couple of days, the fans' behaviour got a little bit out of hand."
Thomas, who eventually finished tied ninth and earning a more than decent US$180,000 bemoaned after it was all over, including the shouting, "It was alright for a little bit today," before bellyaching, "But there at the end, it got a little out of hand.
"It might be funny to them, and obviously people think of it differently, and I could just be overreacting," he concluded.
Just what would his fellow Kentuckian, the late, great 'Louisville Lip,' Muhammad Ali have made of it all? The master of spin before spin doctors had been thought of, Ali knew what box office was, putting bums on seats and selling pay-per-view TV. And young Master Thomas, a very nice young man by all accounts would do well to take a leaf out of the great man's book and be thankful for what he's got.
Thomas even took matters into his own hands by personally ejecting a heckler from the following week's Honda Classic - which he won, adding a more than healthy US$1,188,000, taking his career earnings to close on US$40m - not bad for a man of just 24-years-old. Excellent work if you can get it and surely worth putting up with the occasional taunt from a few fans?
But Thomas is not alone.
Pages
Click here to see the published article.