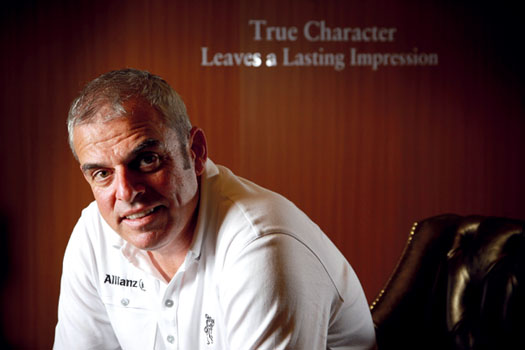 How much does a player's character influence the way they play golf?
I think it's quite evident. You can read a lot from a player by watching the way he plays golf, read a lot about his state of mind, about his aggressiveness, his attitude. A lot is portrayed in the way he plays, of course it is. I know a lot of businessmen say they do a lot of business on the golf course because they can read a personality by watching the way he plays golf.
Do you think a top golfer needs to be true to his own character to achieve success?
I think he's got to be true to himself. I suppose it is important to be true to yourself more than anything else. Having said that, a lot of players put on an image to take the attention away from who they truly are and that works very well for them as well. I think that's a form of diversion.
Do you think you see someone's character more in times of pressure?
Yeah, you do, because everybody reverts to type under pressure situations. Absolutely. I don't like to name names particularly, but you can see it coming through particularly in the Ryder Cup situation. You can really see certain players rising to the occasion and some players don't rise to the occasion. I think it's very evident in the Ryder Cup and that's one of the reasons why the Ryder Cup is such a special event.
Do you see a golfer's true character off the course as well?
A little bit, but you can read more on the golf course than you can off it. It's a lot easier to read it on the course, particularly when things are going badly. You can really see the true character when things are not going so well.
Pages