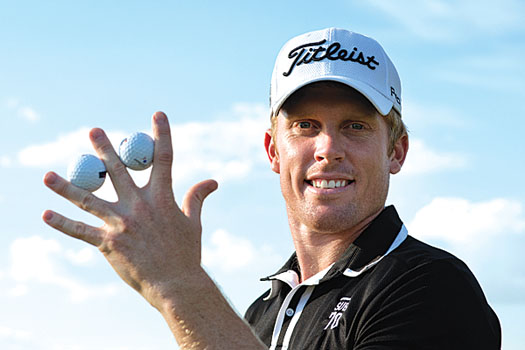 Dear Great Provider, can I have a hole-in-one for my birthday please? I have been playing this frustrating game on and off for 50 years and have never had one. Tiger has had 18 or so. Mind you he is The Best. South African James Kingston has had nine and, amazingly, four albatrosses, one famously coming at Fanling. Even Dominique Boulet has had five. OK, so he has his name on his bag, but my mother-in-law, a 22 handicapper, has two, and now Andrew Dodt has nine, after starting the second round of the recent Scandinavian Masters in Stockholm with seven; the Aussie, staggeringly, had two in the space of 15 holes which, according to the statisticians, is a 67 million-to-one chance.
Apparently I have better odds of having quintuplets, which is something that slightly concerns me. Detailed research by my heavily computerised colleague Warren Humphreys revealed that this has happened twice previously on the PGA Tour, and once in the UK, in 1971, the year before the European Tour was formed. English pro John Hudson, playing in the Martini International at Royal Norwich, holed in one at a par three, and then did it with a driver at the very next hole, a short par four.
Imagine! In my naivety/ignorance I thought this must be an exceedingly rare occurrence. However, having scoured the internet, (so much easier than going to the British Library) I discovered that this happened three times last month alone – all by amateurs. Sixty-five year-old Jan Walker did it on Australia's Gold Coast, using the same 5-wood and the same ball, a pre-owned Wilson: how nonchalant. According to one website, 45 per cent of holes-in-one in America are achieved using a Titleist ball. I always use a new Titleist Pro V1x. What more do I have to do? Hit the ball in the general direction of the hole, I hear you say. Fair point. But Kingston's only ace that resulted in a prize – a handsome Audi TT – ricocheted off trees well to the left of the green at Houghton in Johannesburg. I also remember Vijay Singh, playing in the US PGA Championship at Valhalla, hitting rocks 20 yards left of the target before shooting across the green and in.
Pages
Click here to see the published article.