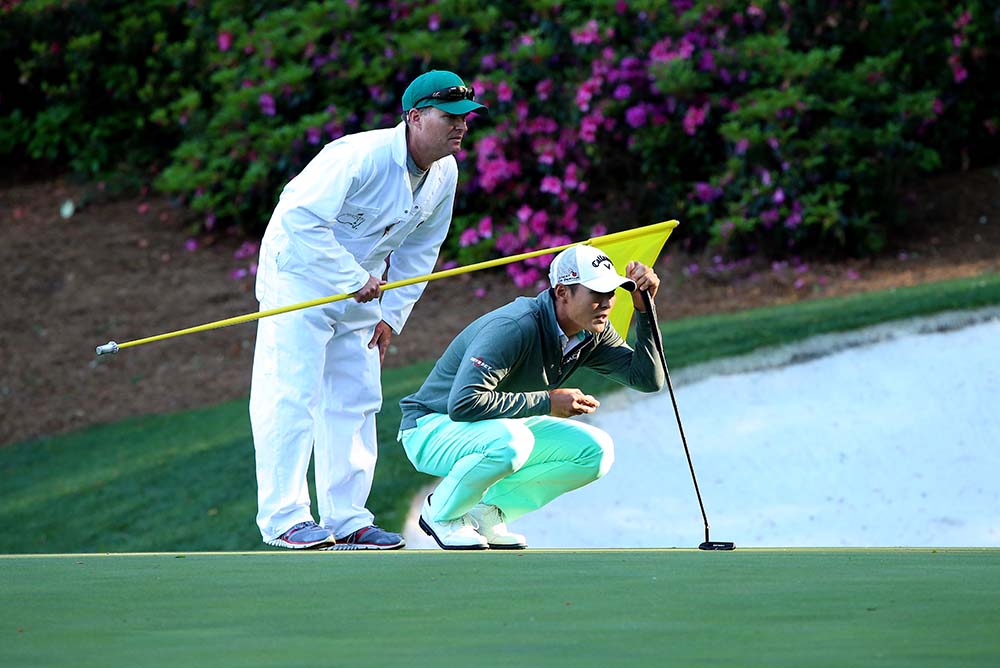 Although they are savoring success now, not long-ago Perez's career was on the verge of turning into chicken feathers. He had shoulder surgery and sat out for most of 2016. His sponsor dropped him. He was left in the lurch. Hartford went to work for Danny Lee and waited for Perez to recuperate, with no guarantee that he would.
Today, Perez and Hartford, who gave eerily similar answers in a recent pop quiz about their union (Pat's pet peeve: slow play), look back on that time as the low point.
"The lowest for this guy would've been caddying for Danny Lee," Perez jokes, cracking them up again. (Note to Danny: He was only kidding.)
"The lowest would have been right after his operation, when I saw him at his house," Hartford says, taking a more serious tone "He was taking pain pills, he couldn't drive anywhere, his arm was in a sling. And then, seven months later, he won Mexico. That was the high point."
Indeed, when Perez won the OHL Classic at Mayakoba at the outset of last season, he proved he was far from done. It reignited his career, and even took him to the next level. He made it to the TOUR Championship for the first time, finished a career-best 15th in the FedExCup, and showed you don't have to be 24 to enjoy success at golf. Sometimes, you peak at 41.
Not a year after Mayakoba, in his first start of the 2017-18 season, Perez shot 24-under to win the CIMB Classic at TPC Kuala Lumpur, Malaysia. He started the new year ranked second in the FedExCup standings.
Perez says he knows his limitations and is better at staying within himself. He says he has saved "I don't know how many strokes" with his short game, going from 117th in strokes gained: around-the-green (-.039) in 2014 all the way to 4th (+.450) in that stat last season.
"You know your game better," Hartford adds.
Asked to write down the one word that best describes their partnership, Hartford writes "Trust." It took trust for him to wait on Perez to recuperate after shoulder surgery, and trust for Perez to hit that 9-iron instead of the 7-iron he wanted to hit at Kapalua last year.
"I was going to put 'brothers' and 'family,'" Perez says. "You can't spend that much time with someone and not have him be part of the family. I've talked to him about everything."
Would they be good at anything else together? They've played some doubles in tennis, mostly winning their matches but in China losing badly to Sergio Garcia, who was playing by himself.
"We got smashed," Perez says. "We couldn't get the serve back. The serve was going over our heads. He's got the sweatbands on and everything. We looked like idiots."
Perez just got a new court at his house, and is looking forward to getting out there again, but adds only half-jokingly that he might not want to tangle with Garcia or Daniel Berger, whose father headed up the USTA. Perez is also leery of Matt Kuchar, whose wife, Sybi, played tennis for Georgia Tech. (The Kuchars have played in high-level mixed-doubles tournaments.)
"Yeah, they might not be invited," Perez says, and he and Hartford again fall back laughing.
Pages
Click here to see the published article.