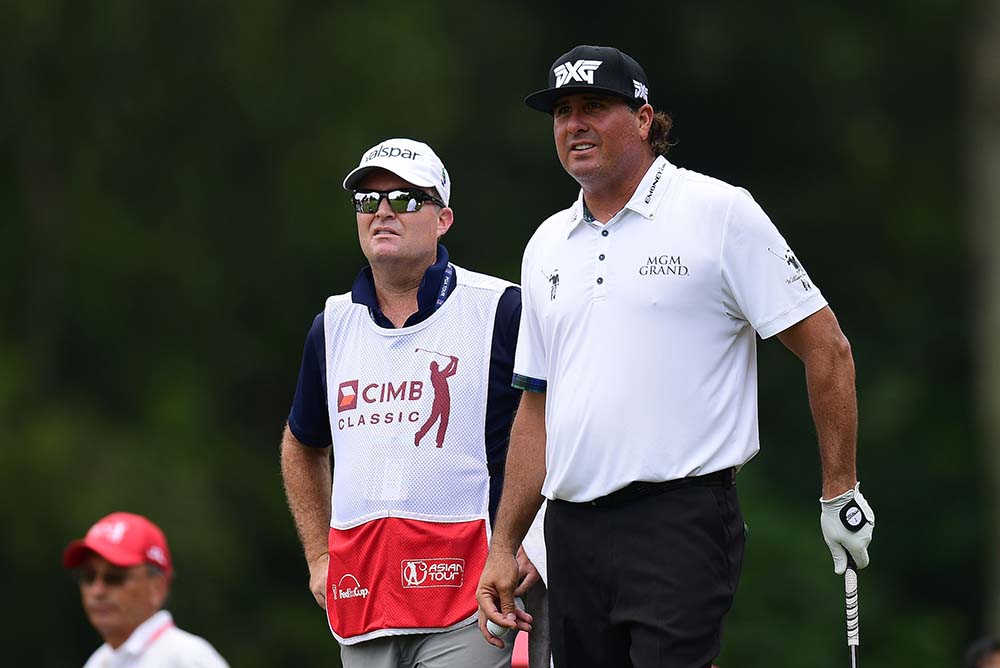 Perez won the 1993 Junior World, beating none other than Tiger Woods (who finished fourth) by eight shots. Less well-known is how Hartford had a hand in that victory. No caddies were allowed at that tournament, but he found another way to contribute.
"My practice plan for the Junior World was to go up to La Costa to play nine holes before every match," Perez recalls. "So, H drove me up to La Costa [approximately 20 miles north of Torrey Pines] and then back to the course each day."
"He was all warmed up for his tournament rounds," Harford says. "He'd already played golf."
After shuttling Perez in his silver 1983 Toyota Celica, Hartford and his grandfather, also a huge Perez fan, followed along on foot as the San Diego junior golf legend dominated at Torrey Pines. Perez won the Maxfli PGA Junior two weeks later in Pinehurst, North Carolina.
Hartford had a little game himself. He not only was one of Perez's high school teammates, he played at the next level for the University of California San Diego. "Freshman of the year," Perez points out with obvious pride. But Hartford was not in the same league as Perez; it was obvious whose game looked like money.
Perez would play; Hartford would caddie.
The move would be a masterstroke, first and foremost because of Perez's otherworldly talent. He is self-deprecating and sometimes calls himself old, short and/or one-dimensional, but his no-nonsense action, a piston-like back-and-through with a perfectly balanced finish, is one of the coolest moves on TOUR. It's also highly effective, seeing him through seasons when he made little on the greens and seasons in which his short game flourished. (Last season being the prime example as Perez turned a weakness, putting, into a strength.)
Hartford, meanwhile, brought tireless dedication and invaluable counter-ballast.
Perez is a spender, the owner of five cars and hundreds of pairs of shoes. "I don't know what I need five cars for," he says, cracking them both up. Hartford is a saver, the owner of stocks.
Perez is a night owl. Teetotaler Hartford is a morning person.
Perez's passion, his most endearing quality, can sometimes spill over sub-optimally on the course. Meanwhile, the steady Hartford simply soldiers on, ever mindful of the long view.
"H is the consummate professional," Burke notes. "Pat always comes first."
Not surprisingly, Perez and Hartford look back fondly on the Junior World and high school in general. But it's not long before they dissolve into laughter again, in this case at the memory of the two of them in the Celica, and Perez's memory of Hartford's cautious driving.
"He's driving 36 miles an hour in fifth gear," Perez says, "and this thing is trying to stay alive."
Hartford, who is still cautious on the roads, doesn't deny it.
"I'd pick you up and drive you to school sometimes," he says, smiling at the memory.
If it's true that player-caddie relationships resemble marriages, and that life imitates art, then Perez/Hartford sometimes resembles the cinematic union of Billy Crystal and Meg Ryan in the movie, "When Harry Met Sally." In the last scene, in which couples are interviewed side-by-side, Harry Burns (Crystal) and Sally Albright (Ryan) are talking about their wedding cake.
"There was this very rich chocolate sauce, on the side," Ryan says.
"Because not everybody likes it on the cake because it makes it very soggy," Crystal explains.
Here are Perez and Hartford, on Pat's birthday meal of choice:
"He loves Mexican food," Hartford says. "Chicken tacos, rice just on the side. He doesn't like beans."
Perez laughs. "That's it," he says.
"His favorite restaurant is Roberto's," Hartford says.
"Chicken taco at Roberto's is the best thing on the planet," Perez confirms.
Pages
Click here to see the published article.