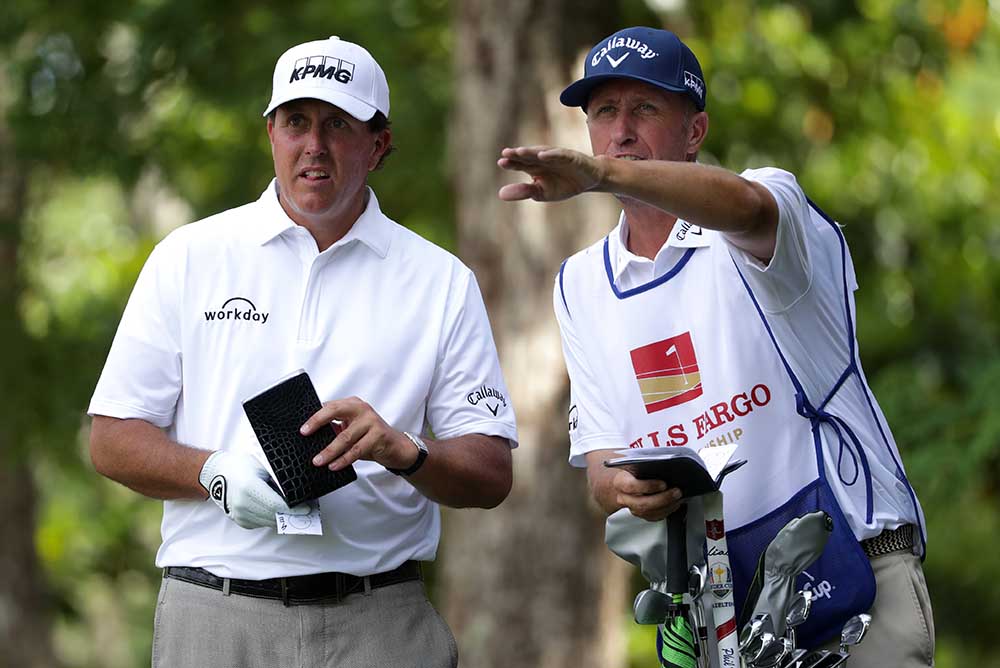 Jim Furyk and Mike "Fluff" Cowan have been together longer, but Furyk has had other full-time caddies, while Perez has never had anyone but the man he calls "H." When Phil Mickelson and Jim "Bones" Mackay split last summer, Perez/Hartford went to the top of the list of the most time-tested active tandems on TOUR.
They have walked side-by-side since Perez's rookie TOUR year in 2002, on the Web.com Tour before that, and as amateurs before that. When Perez won the 1993 Junior World at Torrey Pines, Hartford drove him to the course each day. (Perez had totaled his car and needed a ride.) They have been together so long that Perez used to work for Hartford, not the other way around. Hartford started a lawn-care business when he was 11, and hired Perez some five years later. "He was the fastest worker I ever had," Hartford says with a laugh.
Their partnership has aged slowly, and well.
"I always say there are maybe five combinations out there where no one caddie could do a better job for a player than that particular caddie," says John "Cubby" Burke, who has caddied for Brad Faxon, Davis Love III and others in a career that has spanned 32 years. "Everyone else is kind of interchangeable. There isn't another caddie out there could do a better job for Pat than H.
"I would say the same thing about Bubba Watson and Ted Scott," Burke continues. "Mickelson and Bones had it, and Freddy Couples and Joe LaCava. That's about it. That's rare air."
But how have they done it? Even Perez admits he couldn't have predicted the last 20 years.
They are opposites, the brash Perez standing out with his unfiltered opinions and flat-brim hat. Perez's character fits perfectly with one of his sponsors, William Murray Golf, whose fashion sense is inspired by The Murray Brothers' off-the-cuff mentality and created on the notion that life and golf don't have to be so serious. Get out there, have fun, and look great doing it is Perez's mantra.
In contrast, the low-key Hartford blends into the background, but they share a similar sense of humor. At an interview and video shoot with the PGA TOUR at Tiburon Golf Club at the Ritz-Carlton Golf Resort in Naples, Florida, home of the QBE Shootout, they laugh so much that it seems to support the adage that humor is the shock absorber of life.
They also trust each other implicitly, so much so that when Perez wanted to hit 7-iron at the 164-yard 11th hole at the Sentry Tournament of Champions last season, and Hartford said it was a 9-iron, Perez didn't argue. He took the 9 and nearly holed the shot for a kick-in birdie.
"Greatest call ever," Perez says. "I'd have been over the cliff. A lot of guys would have trouble getting on board if they had a two-club difference of opinion with their caddie."
Not Pat and Mike. They know one another's birthdays. They know one another's birthday meals. They talk every day, live four miles from each other in Phoenix, and go to the course together even in off-weeks. Hartford, unmarried, has a standing offer to have his wedding at the secluded mountain home Pat is building in Payson, Arizona, 90 minutes north of Phoenix.
Pages
Click here to see the published article.