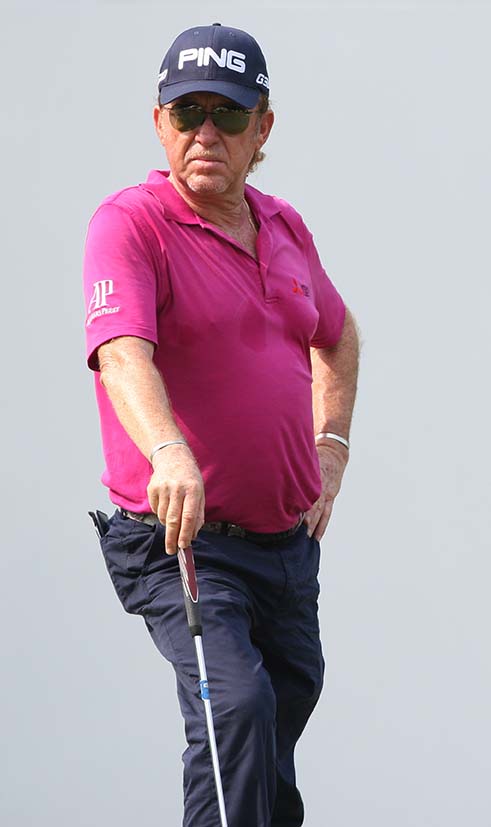 Who's your favourite playing partner at the Ryder Cup? And why?
I could not say that I had a favourite playing partner. I had the most successful results with José María Olazábal and with Padraig Harrington but all the matches I played with different partners over the four years of playing Ryder Cup, were great experiences and something I will never forget.
How well did you know Seve? What is your favourite Seve story?
I was lucky enough to call Seve a close friend and he was certainly my greatest inspiration as a golfer. When I first started playing the European Tour in the 1980's, Seve was this incredible guy we all admired and a member of a great group of Spanish golfers on Tour. We travelled together around Europe playing tournaments and enjoying amazing experiences and lots of stories. Then in 1997 Seve chose me as his Vice Captain at the Ryder Cup at Valderrama and it was an honour to work alongside the maestro. Yes, he was a special man and someone I miss a great deal.
You have built a golf academy in your home town Malaga. How important it is to make golf more accessible nowadays?
Thank you for giving me the chance to talk about the Miguel Angel Jimenez Golf Academy as it is something I am very proud of and somewhere I spend a great deal of time at when I am in Spain.  I wanted to create a facility where families or individuals from all backgrounds could come to learn to play this amazing game at an affordable cost. We have a great 9-Hole Par-3 course, practice chipping and putting areas as well as a big driving range and a technical area too. There is a team of very experienced professional golfers on site to teach beginners (or more experienced players) of all ages and I am very happy to say we have a membership of over 100 kids and a very busy calendar of fun events. And you will not be surprised to hear that the food is an important feature of the Academy! We have a fantastic team running the restaurant offering typical Spanish food.
I also have a team running the Miguel Angel Jimenez Junior Circuit which is a year-long series of tournaments around Spain for children. Rather like the Tour, the children compete in events throughout the season and their results go towards an Order of Merit with the leading children competing in a Finale at the end of the year. It would be amazing to see a Champion of the future that started his or her golfing career on my Junior Circuit. But if not, I am sure they will learn many important life skills for the future and hopefully love the game of golf.
Pages
Click here to see the published article.