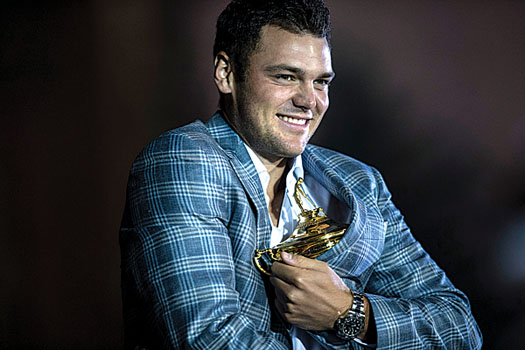 The first event you played after qualifying for the European Tour in late 2006 was the Hong Kong Open. What do you remember about that event?
Yes, I was standing on the putting green and right next to me was Miguel Angel Jiménez. Ian Poulter was there too. I was quite intimidated by it because just a few months before I was playing on the German professional tour and all of a sudden I'm standing on the putting green next to these Ryder Cup players and these big boys from the European Tour. I was just trying to stay away from them and not interrupt their practice. So it was funny and a totally new experience for me back then.
You said at the end of last year that although you had a great season in terms of the two big wins at the Players and US Open, you were slightly disappointed because you didn't feel you were as consistent as you could have been. How satisfied are you with the way you've performed so far in 2015?
I played really well in the Middle East and then I played OK in Florida. The first tournament there was a tough one to judge because there were so many delays because of the weather. But overall, I'm satisfied. Some fine tuning here and there and I'll be ready for the Masters.
A lot was made of your decision to change your swing in 2011 at a time when you were ranked number one in the world. Firstly, was there any doubt in your mind about whether it would all work out as planned, and secondly, what types of shots are you able to play now that you weren't able to play before?
Well, I never really doubted that it wouldn't work out. My coach agreed with me that I needed to become more of a complete player in order to play and be prepared for every single course. I never doubted that I would play great golf again. It was just a matter of working closely with my coach and putting the hours in. That's what I did. Now I can hit any shot, really. That was nothing something I was able to do until 2011.
Would it be fair to say, then, that you're the best prepared you've ever been for Augusta and the Masters Tournament?
Well the last three years I have been able to play Augusta the 'right' way. I can draw the ball around the corners and hit high fades into the greens. It was the putting and short game that let me down a little bit unfortunately, which therefore meant I couldn't score. My results didn't show the way I played golf there. Hopefully this year I can play the same as I have been for the last three years but improve my putting and also my score.
Pages
Click here to see the published article.