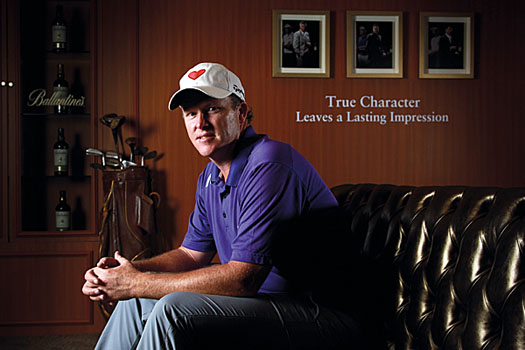 How much does a player's character influence the way they play golf?
Massively, I think. Obviously it's pretty clear when they're in the heat of battle how their character comes out. It's quite obvious when they're coming down the stretch, how they react to certain shots, how they get excited or get a little emotional or whatever it might be. Character plays a massive, massive part in golf.
Do you think a golfer needs to play the game true to his own character to achieve success?
Yeah, for sure, definitely. If you start trying to play someone else's game, that's when you start to lose sight or lose track of what you're trying to do on the golf course. For myself, I'm a shorter hitter, so if I stand there and try to hit it a long way, I start losing rhythm, and that's not who I am. I'm just somebody who hits it down the fairway, hits it on the green and makes a few putts. Some guys like to take a big wild swing at it and play to their character that way, whereas I play within myself the other way.
How do you describe your character off the course?
I'm quite a laid-back. I enjoy my family time and time with my friends. I'm not someone who is completely obsessed with the game. I like a lot of other things in life and being happy off the golf course with my two kids and my wife. We're all a really close family. I'm definitely a "cruisey" sort of person and I think I come across that way.
Pages
Click here to see the published article.