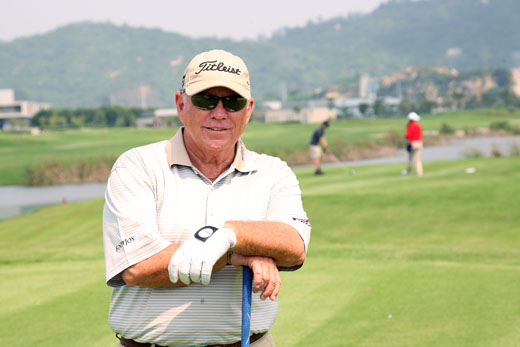 Do you ever go on golf holidays?
No, I actually go on vacation to get away from golf. My wife and I enjoy going to remote islands around the world to relax. I definitely don't take my clubs. We do have a house up in the mountains of Utah where there's a course, so I'll play there. I bring a few of my buddies up: we play during the day and have fun at night.
Which courses would you pay to play?
I'm partial to Winged Foot, which is where I grew up. My dad was the pro there for 35 years. But I like the older style courses. My top five in the States are Winged Foot, Pine Valley, Seminole, San Francisco Golf Club and Sand Hills, a fabulous Crenshaw course in Nebraska. Internationally, I love Royal County Down in Northern Ireland and St Andrews. That place has stood the test of time. I really enjoy Walton Heath outside of London, too.
What is your biggest indulgence?
I have three: watches, cars and red wine. I love watches. I have about 30 at home. My favourite is a beautiful gold Rolex with a blue lapis stone in the dial that my wife gave to me for our wedding. About four years ago I got an endorsement contract with Rolex, which worked out great for me. It means I don't need to buy so many these days.
What's in your cellar?
I don't buy wine to keep; I buy to drink. Having said that, I do have around 280 bottles in my cellar at home. I'm a Californian Cabernet and Bordeaux fan, so I do keep some Chateaux Margaux and some Petrus. Wine is a funny thing: just because someone tells you something is good doesn't mean you'll necessarily agree. It's entirely dependant on your palette.
How about buying a vineyard and starting your own wine, like so many of the pros?
Ha! I don't think I could afford to do that, although the opportunity would be nice. I've tried Ernie Els' wine. It's very good.  
Do you have a favourite hotel?
I really enjoy Four Seasons properties. I've stayed at their Maui, Nevis and the Bahamas. The Four Seasons in Macau lovely. The service is impeccable and the casino there is very nice.
What's your favourite airline?
My wife was a flight attendant for American [Airlines] for 15 years, so I always fly with them domestically. Cathay Pacific is phenomenal. They have the nicest First Class I've ever tried. The service is fabulous and they have great wine onboard. I enjoyed an excellent bottle of Chateau Lynch-Bages on the flight over to Hong Kong.
What do you always take with you on a trip?
I'm really anal when it comes to packing – I bring way too many clothes. But I always enjoy listening to books on tape: my iPhone is full of them.
What's on your iPod?
I don't need an iPod anymore because everything is on my iPhone. I like every kind of music except for rap. I can't get my head around it. Remember, I'm 65-years-old. I'm not one of those old dudes that's into that kind of thing. I know Justin Timberlake very well through golf and I like his stuff. –Interview by Alex Jenkins
Click here to see the published article.