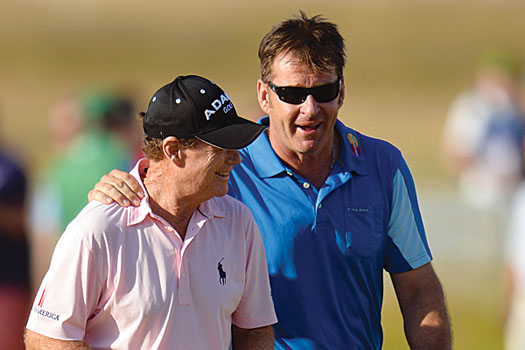 As I write Monty has just finished a very distant second in the British Senior Open at Royal Porthcawl, a mere 13 shots behind Bernhard Langer. The German's extraordinary, dominating performance led Monty to claim that this would be remembered as one of the greatest displays of golf ever. His comments may have been tinged with a hint of hyperbole in the immediate aftermath of battle, but you get his drift. Tony Jacklin, who was commentating on Sky Television, suggested (with all his invaluable experience as a Ryder Cup captain) that Paul McGinley should give very serious consideration to selecting Langer as a wildcard for this year's edition at Gleneagles. He feels that Langer's experience and current form would be a tremendous asset to the team.
Personally I reckon they're all in cloud cuckoo land! With about five weeks to go until the team is selected the top nine are McIlroy, Dubuisson, Donaldson, Stenson, Garcia, Rose, Kaymer, Bjorn and Donald. If that remains unchanged, McDowell, Poulter and Westwood are the obvious captain's picks. Beyond them, there's a case for Stephen Gallacher (a lone Scot on home soil), Francesco Molinari, Miguel Angel Jimenez (a senior who's only just outside automatic selection) and perhaps even Robert Karlsson who's coming right back to top form.
I've always been a great admirer of Langer, and his longevity at the highest level is remarkable, but I'll wager he's not even on McGinley's radar. Assuming they haven't qualified and they still easily could, I suspect McDowell and Poulter will be automatic choices. Westwood will give McGinley a bigger headache. His Ryder Cup record is outstanding and his experience would be invaluable. However, to beat a strong American side you need men in form. Would Gallacher, or Jimenez or Molinari or Karlsson bring home more points?
The captains are always quick to point out that they don't hit a shot and that it's all down to the players to win their matches, but recent history would suggest other factors matter too. At Oakland Hills in 2004, the Texan Hal Sutton appeared on the first tee wearing an enormous Stetson, having stated in gung-ho fashion that he was putting the best two players in the world together to lead his team. Ken Brown and I went to watch the opening skirmishes close up from the clubhouse. Colin Montgomerie and Padraig Harrington walked early onto the tee together, happily chatting away while they practised their putting. Tiger Woods then appeared on his own and walked over to chat to the Europeans. His partner Phil Mickelson pitched up a minute later and studiously ignored everyone. After the best two players in the world were beaten in the morning, Sutton put them out together again in the afternoon in the firm belief they couldn't possibly lose twice. They did. Sutton just ignored the fact that they were like oil and water. His opposite number Bernhard Langer hardly put a foot wrong throughout the campaign, getting his pairings spot on, which lead to a record win on American soil.
Admittedly he was blessed with a strong, in-form team, but then so was Nick Faldo at Valhalla four years later, and he was totally out-thought and outmanoeuvred by a canny Paul Azinger. Almost for the first time the Americans performed as a team, while the Europeans wallowed in a rudderless ship. Before the competition began, Azinger and the whole US team appeared on a riotous stage at a street party in downtown Louisville, to the delight of the assembled masses. The Americans had become European in outlook and vice versa. Captains do matter, which is why the PGA of America have appointed Tom Watson this time. They're fed up with losing and want a proven, hard-nosed champion to take the Cup back to America. As things stand now, Mickelson is just outside the top nine automatic places, and Woods is miles away. Presumably Watson will pick Mickelson, but what of Tiger? Nicklaus thinks he must be picked. McGinley says the competition would be better for his presence. Watson havers. It's no secret that there is no love lost between the two men, the captain having been quite outspoken about Tiger's behaviour in the past and there are rumours (possibly unfounded) of a greater rift dating back many years. Previously it has often been a team of eleven plus Tiger Woods and his security entourage. Nonetheless, Watson is there to win the Cup and if he thinks Woods will add strength to the team he will surely pick him. The question is, will he think that?
Tiger is old guard, sometimes has a beard of sorts, and oozes experience. Would you pick him?
Pages
Click here to see the published article.