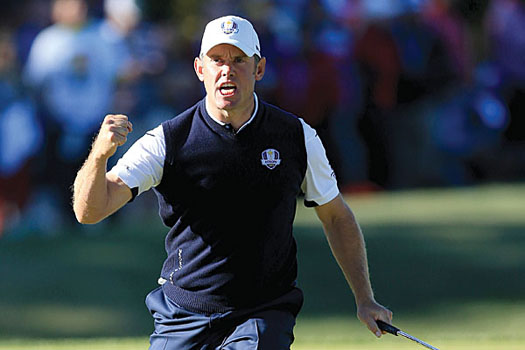 Of much greater significance is the question of whether or not the tribal elders have been forced to make way for the young bucks. Sunday at Royal Liverpool was really all about Rory McIlroy, Rickie Fowler and Sergio Garcia, although the BBC Director couldn't resist showing every dying ember of Tiger's ugly slide into oblivion. Okay, I exaggerate for effect, but it was a performance that the "old" Tiger wouldn't have recognised. It was only last season that he was winning five tournaments on the PGA Tour and anyone writing him off just yet would be either very foolish or perhaps blessed with remarkable foresight. By the time you are reading this he may have won the US PGA Championship but my gut instinct is that, while he may well win more tournaments, his major tally will remain at fourteen. I say this for two reasons. Firstly, it appears that the overwhelming confidence that once suffused his game has gone, a victim of a turbulent few years, and secondly because his driving is of the military variety. When he won at Hoylake in 2006 his long iron play was imperious. He didn't try to overpower the course, merely go with the flow. This year, McIlroy's driving was so long and so straight that he simply flew all the hazardous revetted bunkers that so often meant a dropped shot, if found. Jack Nicklaus always reckoned the driver was the most important club in the bag, closely followed by the putter. McIlroy is the same. When his driver is working the game looks very easy indeed and the rest flows like a Mozart symphony building to a dramatic climax.
Who knows whether the old guard has handed over the baton just yet? Any of the top veterans are capable of their day in the sun, as Tom Watson continues to prove, but there's no question we are into an exciting new era. Fowler arrived on the scene with a flourish of trumpets, but for a while was better known for his flashy outfits than for winning golf. According to Butch Harmon, his coach of the past year, having sorted out his marketing the 25-year-old has matured into a serious golfer with serious ambitions. He has absorbed Butch's instruction remarkably quickly and now looks ready to tackle the likes of McIlroy head on in what could be the riveting rivalry of the next decade. Only a few weeks before The Open, Fowler was involved in a brutal car crash that could easily have been fatal, but he walked away with just a few stitches in his scalp. Such sobering experiences can have a rapid maturing effect!
Hoylake was a tremendous Open, with the likes of Garcia and Fowler making for a gripping last day despite McIlroy's big lead. It was a shame that we didn't see McIlroy throw his victorious ball into the galleries at the end, but sadly the BBC Director was too busy showing us shots of the adoring crowd. Am I alone in wanting to see the combatants and their every move and gesture, or is there a huge groundswell of demand for shots of packed stands of applauding punters?
There was no question of a Garcia choke this time, although his challenge did end when he very uncharacteristically left his ball in the greenside bunker on the 15th. If there is any justice in this world he will eventually win a major, but then so should Colin Montgomerie and Lee Westwood. Monty does now have his two senior majors (and well done him) but as Butch Harmon pointed out to him, Nicklaus still considers his major haul to be 18, despite having won a slack handful on the Champions Tour. (In fact, if you check out his website, he claims 20 majors, including his two US Amateur Championships. The Seniors Tour hardly gets a mention).
Pages
Click here to see the published article.