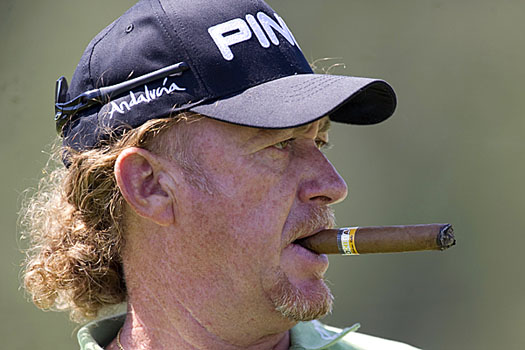 Jiménez carded rounds of 76 and 74 at El Saler late last month to fail to make it to the weekend action by some margin. But the important thing is he's back.
The 49-year-old set a European Tour record when he claimed victory at Fanling last November by holding off Sweden's Fredrik Andersson Hed on a tense final day. He became the oldest winner on the Tour at 48 years and 318 days, beating the previous record held by Des Smyth.
With three wins in total at Fanling – he also triumphed in 2004 and 2007 – Jiménez also has one of the best records in Hong Kong Open history.
"My leg is improving daily," the cigar-chomping Spaniard said. "I work out every morning in the gym and I'm actually a little ahead of schedule on my rehab. I am not 100 per cent fit, but I want to test myself and see how I feel.
"When I took up skiing I knew the risks that I was taking, but I love it so much I could not stop," Jiménez had earlier said. "I was going down a hill and lost control briefly and when I fell it was very sore. I knew immediately that I had broken something. I broke the top of the tibia in my right leg, just where it meets the knee, and they put in two pins. I was playing very well [prior to the accident] but these things happen in life."
Click here to see the published article.