Chinese Crackers in Hong Kong
With a sob in the pen, I must record that Hong Kong is worse off, golfwise, than it was thirty years ago. I mean for facilities. And this, in one of the fastest-growing, richest cities in the world is a burning shame which I hope and trust someone is doing something about.
I went into all this very thoroughly and these are the facts: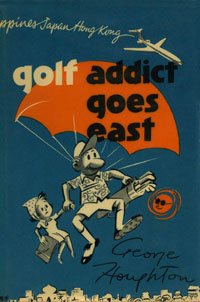 More than thirty years ago, when the population was three million less than it is to-day, there were nine golf courses, making 108 holes; to-day there are only five courses, adding up to 72 holes.
Four of the courses come under the auspices of the Royal Hong Kong Golf Club, which has 3,000 members and nearly 6oo on the waiting list. Then there is the Shek O Country Club (18 holes) which is limited to only 300 members, all of whom must be 'westerners'; 75 per cent British.
To-day, the population of the colony exceeds 4,000,000.
I must not elaborate this grim golfing situation because the Hong Kong space shortage is aggravating enough without Houghton's natter. But in 1934, in addition to the courses aforementioned, there was a British army course at Kowloon; a 9 holes course for resident Portuguese; Shatin G.C. for the Japanese; and Happy Valley, which alas, now has no happy hackers.
Hong Kong golf started at Happy Valley—a wide gorge cutting deep into the city—following an advertisement which the Hong Kong Club (an aged and greatly revered social institution) placed in local newspapers in 1889. People interested in golf were asked to attend a meeting. Only thirteen turned up, but these included two addicts whose names were Captain Rumsey, R.N., and Gershom Stewart, who had been hitting golf balls up and down the race-track months before. Captain Rumsey was made Skipper of the new golf club and these duties he fitted in with his job as Harbour Master.
Pages
Click here to see the published article.