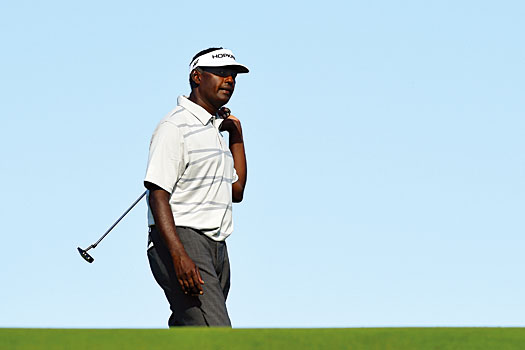 As Jack Nicklaus dressed himself in Green Jacket number four and five during a golden era of Masters dominance, Augusta National and the watching world marvelled, oblivious to a young Fijian hitting coconuts for golf balls behind Nadi International Airport over 7,000 miles away.
Despite being hindered by economic limitations in 1970s Fiji, the young boy from Lautoka went on to claim the game's most prestigious honour as an unrivalled master of his craft.
A swing fashioned through magazine cuttings and fatherly wisdom excelled into one of the game's finest, conjuring three major championships and a world number one ranking.
But for Vijay Singh to truly cement his Fijian legacy, handing his home country the game of golf, in its bountiful entirety, would be his finest contribution.
"Growing up I always remember struggling to afford decent golf balls so we had to make do with coconuts," recalls Singh, who headlined the inaugural Fiji International in August. "It's a very difficult environment for golf to grow in Fiji because from an early age the kids have the mindset of wanting to play rugby or soccer.
"Unfortunately most kids don't have any idea what golf is and because of this it was tough learning the game. But it was still fun times, that's how I grew up and I didn't know any better."
Pages
Click here to see the published article.