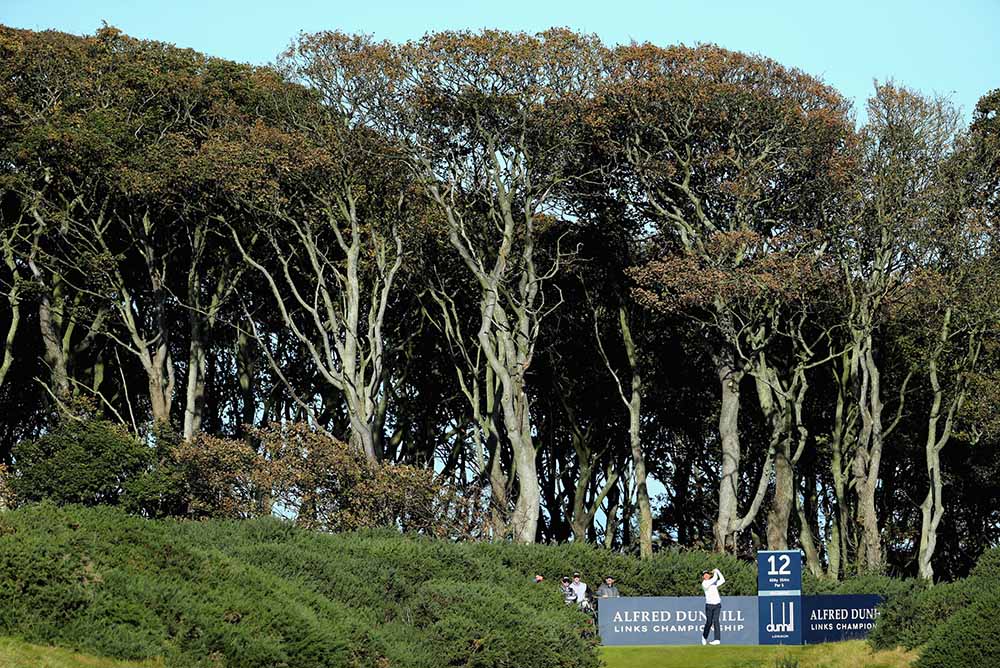 On the first day of the tournament, I thought I'd go the full hog and add a splash of colour by wearing some pretty outrageous trousers and scarlet socks. However, the St Andrews caddie master was none too impressed, approached me on the driving range and claimed that it was a ridiculous attire for a caddie. I felt a tad deflated by this remark and thought he missed the point that the first St Andrews' caddie in history had landed an endorsement contract with a wacky golf clothing outfitter and showed a degree of ingenuity in bagging a top-notch journalist by sending a picture postcard.
OK, I can accept that he is not a fan of my writing, but for me not to be able to express any sartorial individuality is another thing. Maybe they should get us to dress up in white boiler suits like the Masters. However, for the top end luxury clothing outfit that is Alfred Dunhill. I wouldn't have thought so.
Mind you I did get approached by the local constabulary, as a beaming and most cheery looking East Neuk policewoman came over and gave me the utmost compliment on my bright saltire breeks. Now that makes a pleasant change, as the last time I was approached by the local constabulary it was on far less favourable, constructive and amicable terms.
There are rumours that some amateurs are paying between ten and fifty grand to get into the Dunhill and that there is a very long queue. And, even if you do get invited to play and pay, there is no certainty that you will be invited back the next year. An intriguing event it is.
The 'draw', whereby you discover your playing partner, takes place on Tuesday evening but is a slight misnomer, as some guys just keep ending up with the same partners. However, of more interest is the 'handicapping' which seems to be slightly fluid in nature, let's say, and there appears to be a high correlation of success in the team event concerning the degree of one's relationship to Irish horse racing.
During the competition, Matt and David played pretty solidly in the first two rounds and by the 11h hole at Kingsbarns on the third day, were suddenly being followed by a mobile, on course, camera crew.
No, they weren't out to see my breeks! The fact was that Matt had edged into the second position in the Pro event. And further, David had a one-and-a-half-foot putt for a par to put the team on the leaderboard at twenty under par. However, then something terrible happened which I believe caused the sudden demise of Team Walsh and potentially (but hopefully not) the end of a bright career on the world golf stage for our young professional. For Matt holed out his par putt and then picked up David's marker before he could utter a plaintive word. With 200,000 dollars in the team event prize fund, this was more than a rash act.
It was merely disastrous all round and if there was ever a juxtapositional turning point in events there was one. Matt immediately went on to drop six strokes to par in the ensuing five holes and David did not fare much better. Very painful to watch as the camera crew made a shrewd exit, as did Team Walsh.
Pages
Click here to see the published article.