7 Sam Snead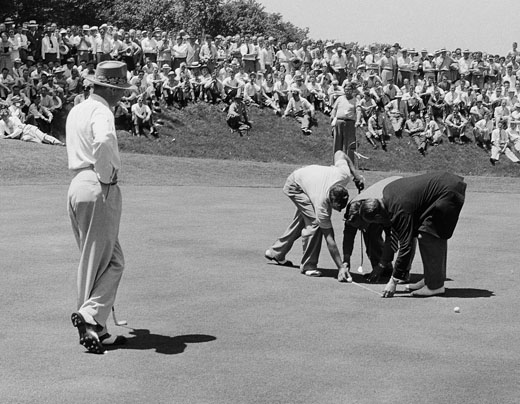 Sam Snead became the victim of one of the highest profile mind-game moments of all time in 1947 at the first ever locally televised major. Having never won the US Open, it finally looked as if it was Sam's year when he sank a 20 foot birdie putt on the final green to force a playoff against the unheralded Worsham. Snead was the reigning Open Champion and had won six tournaments the previous year. However, during an outstanding playoff Snead couldn't shake his man, as Worsham (wearing a tee shirt!) chipped in twice from off the green.
They finally came to the eighteenth tied, but both left their lag putts two and a half feet from the hole, with Lew having the easier uphill putt. As Snead stood over his putt, Worsham struck. He asked, "Hang on, are you sure you are away? He then called a referee to check. Mayhem then ensued as officials ran around and minutes ticked by before finally deciding that, yes, by a one inch margin, it was Snead to putt first. Predictably, sapped Sam missed right, and the wily Worsham sank his for his only major win.
Pages
Click here to see the published article.