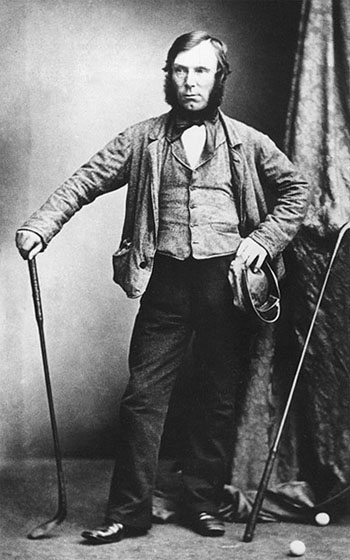 He clearly learned much from his father David, another legend, regarding gamesmanship. The Poet Laureate of Golf, George Carnegie, had this to say about him, c.1830:
Davie, oldest of the cads,
Who gives half-one to unsuspicious lads
When he might give them two, or even more
And win, perhaps, three matches out of four
Is just as politic in his affairs
As Talleyrand or Metternich in theirs.
He has the state-man's elements, 'tis plain.
Cheat, flatter, humbug - anything for gain;
And, had he trod the world's wide field, methinks,
As long as he has trod St Andrews Links,
He might have been prime minister or priest,
My Lord, or plain Sir Dai'id, at the least.
So there it is: The first, and most magnificent, description of the gamesman – although I'm sure that David Roberston would never have actually cheated (unlike his notorious namesake who in Open Championship qualifying in 1985 was fined and banned for 20 years for repeatedly moving his marker closer to the hole), it's clear he would certainly use flatter, humbug and squeeze mercilessly on the number of strokes he would give.
My own reputation as a master of a unique style of Indian gamesmanship is well known in Auchtermuchtie, consisting primarily of the old Navaho trick where I roll over, then scream and beg.
It's good to see the ancient art is alive and well, and I began to think of the other great examples down the years…
Pages
Click here to see the published article.