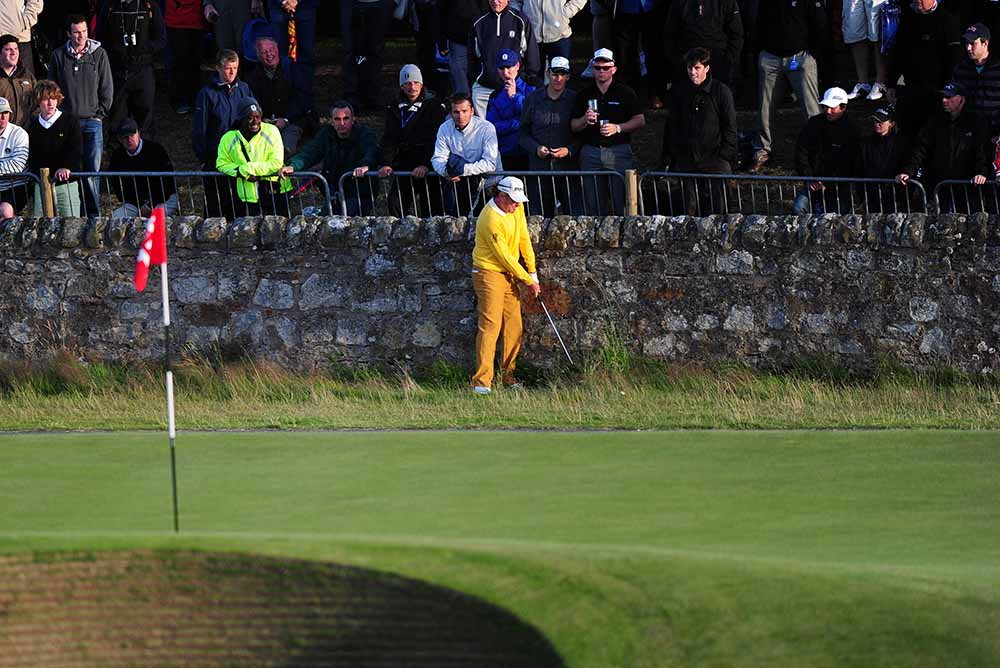 Equally memorable stories relate to the adjacent 17th and 18th holes and were recounted to me by Brodie who is an old school caddie who has seen it all as they say. First on the famous Road Hole seventeenth, he had a player in his group who had hit right up against the wall and thought he would try and emulate Jiménez's incredible 'wall shot' in the 2010 Open. You know when the charismatic Spaniard hit his ball hard into the wall and it rebounded in a pitch like trajectory, over his head, to land softly on the green. So, this chap stood ambitiously over his ball while his weathered caddie watched on and smiled with a knowing glee at Brodie. The man hit a hard blow, but unfortunately the ball ricocheted off the wall in no pitch like trajectory, but rather speedily, onto the caddie's bald pate and over the wall out of bounds. And suffice it to say that this caddie was no longer smiling.
Brodie then recounted how he'd had an American chap hit a wayward drive at the last onto the roof of 17th The Links and back onto the fairway. The chap then hit a slice onto the roof of Waldon House (14th The Links) and again back onto the fairway. He then pitched to ten feet and sank it for a par. Brodie said it was the best par there that he'd ever seen in 17 years of caddying.
Well, on Saturday my last drive down 18th soared high above the rooftops of the houses on the Links but it went straight this time and ended up 30 yards short of the green. But alas there was no gallery to witness it and I do think the people that were there four hours earlier would not quite have believed it.
I finish on telling you about a Mr Bird's second shot into the 18th which I witnessed recently. Mr William Bird from the USA was across for a trip to celebrate his 65th birthday with some friends. He had hired a professional cameraman for the week and was taking things seriously. Anyhow, I happened to be out for a walk and stood behind the green to watch his approach shot from before the road. He hit, and it bounced a couple of times before the green at which point I said, 'that is a good shot'. It then meandered up the valley of sin and kept a perfect pace and hyperbolic path into the back of the cup. Well done Mr Bird who it transpires hit an eight iron from 165 yards. What a birthday present. And I do hope your friends will be calling you Bill the Eagle henceforth.
Please write to thekiltedcaddie@gmail.com if you have any comments.
Pages
Click here to see the published article.