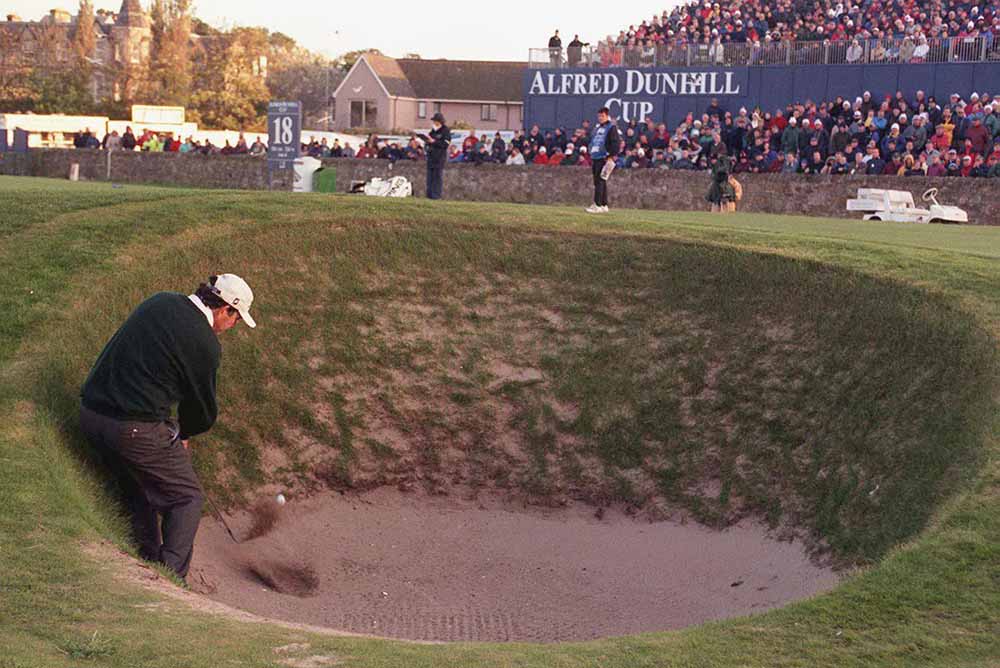 However, last Saturday playing in the St Andrews Club Autumn Prizes Competition, I hit that pretty bad shot. In fact, I hit two of them. As I stood on the medal tee, I'll admit to having nerves and also being rather under the spotlight, as the sun was out, and a good fifty onlookers had assembled behind us. Moreover, we were off back tees, right under the nose of the R&A clubhouse. I took out my driver as there was a wee breeze. However, I hit an almighty, careering hook which headed with great velocity towards the upper balcony of the white house next to the New Club. I felt it incumbent to shout a rather loud 'fore' as the ball crashed into the cars and startled looking tourists on the street. Oops! There was this stunned silence and a sense from the crowd that this game of golf had the potential for entertainment after all. Worst still I was wearing my cerise pink shorts and striped, orange Tom Morris socks, which were doing nothing to help me blend into the background let's say.
I let my partners hit their shots up the middle and teed up a provisional. I had suddenly become a major focus of attention to everyone in the local vicinity and of particular interest to resident Links householders, curious Asian tourists and people having left their cars parked next to the course. A keen silence prevailed as I proceeded to hit an almost identical shot. Absolutely mortified now, I could not bring myself to shout another 'fore' as I quickly reasoned that everyone in their right minds would have had their eyes peeled on my ball, as it headed dangerously and ominously towards the houses and cars, still parked on the street.
On the upside there was no sound of breaking glass, screams or indeed any angry shouts. There was just an uncanny and unsettling calm. A kind of amazed and amused silence as if people hadn't quite registered what had happened or simply felt that laughing was not appropriate for the scene's gravity. Apart from the voice of one small boy who I think wished me luck.
When at University, my golf team captain made an equally embarrassing scene for himself on that first tee. Except he fell onto it. He had imbibed in too many house gins at lunch in the annual University/R&A match, didn't overly negotiate the steps and ended up prostrate under his golf bag, much to the hilarity of several onlookers and a full bay window of that Royal and Ancient clubhouse. However, he did get up and smash one down the middle.
Pages
Click here to see the published article.