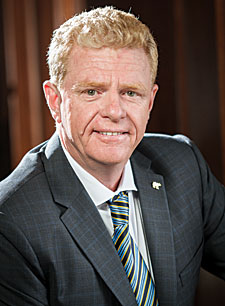 When did you start playing - and where?
I started playing when I was about eight growing up in Zimbabwe. We lived in a small mining town in Matabeleland and the town's golf course was across the road from our house. A few kids from the street I lived on would go out on the course and play a few holes after school. Zimbabwe was producing some world-class players at that time; players like Nick Price, Tony Johnstone and Mark McNulty. But it was the great South African players like Gary Player and Bobby Locke that inspired us all.
How often do you play?
About once a week. I like to get out and play with different club members whenever I can. Being an effective club manager in a private club is mostly about building relationships and playing golf is a great way to get to know people and spend some quality one-on-one time with someone. When I'm not at work I really enjoy playing a round of golf with my son, who is a US PGA member, when he is home during holidays.
What's been your best ever round?
I've beaten par once in my life and it was the day that I decided to change my grip from an interlocking grip to an overlapping grip. It was on a golf course called Lakewood in Zhuhai in 1996. I went straight to the tee without practicing and shot a two-under-par 70. I never changed my grip back but I've never been able to match that score again!
Pages
Click here to see the published article.