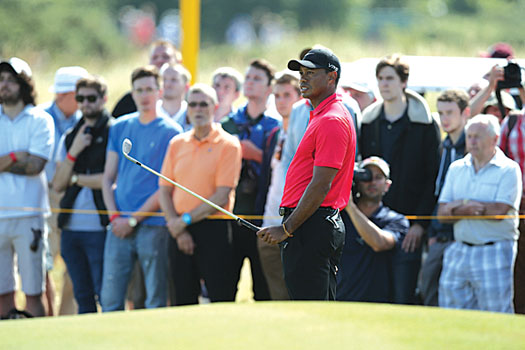 Please note: this column comes with a health warning.
According to the renowned Mayo Clinic in the United States, between 33-48% of golfers are afflicted by them. Ben Hogan was. So were Sam Snead and Tommy Armour, who is credited with first coining the term: "The Yips" - the loss of fine motor skills without apparent explanation. In the modern game Bernhard Langer has famously overcome three bouts, resorting to all sorts of physical contortions, before the broomhandle putter came to his rescue. Tom Watson has steadfastly adhered to the traditional putter with tremendous mental strength, but apparently reckons that the "twitches, staggers, jitters and jerks" may have cost him a major a year for a decade. Without them, Watson, who has eight majors to his credit, may have equalled Nicklaus's major record of 18. Other players have suffered full swing yips, like Sergio Garcia, Kevin Na and Ian Baker-Finch, whose blossoming career was totally blighted by it, under the pressure of competition.
It's not just golfers who suffer. Russia's Olympic tennis champion Elena Dementieva lost the ability to toss the ball for the serve. Cricketers, especially left arm spinners for some reason, have had difficulty releasing the ball anywhere on the square. The five-time world darts champion Eric Bristow struggled to hit a barn door from eight paces. Seven-time world snooker champion Stephen Hendry battled it for years, unable to properly regain his cueing action through the ball.
There's another particularly debilitating form in golf that is utterly soul-destroying and I speak from personal experience. Kyi Hla Han, the chairman of the Asian Tour, has suffered for years. Ross MacFarlane, a European Tour winner, was forced out of the pro game because of it, as was South Africa's Dale Hayes. Chipping is such a magical art. Not everyone (actually very few!) can drive the ball 300 yards, or launch a 5-iron into the stratosphere, but almost anyone, given the determination, the discipline, the creativity and endless hours of practice can learn to flop and pop, spin it and bin it around the greens. To have attained a high level, only to be struck by the "chipping yips" is one of sport's cruellest disorders. Imagine then how it must feel to have been one of the greatest exponents ever to have walked on this planet, only to suddenly be thinning and fatting it like a 36-handicapper.
Pages
Click here to see the published article.