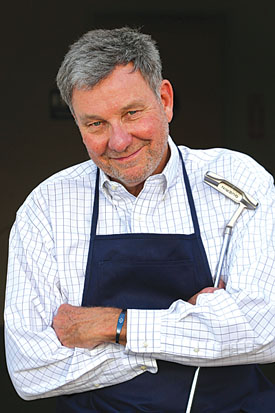 What was the driving force behind the foundation of Guerin Design following the sale of Rife?
About a year prior to Rife being purchased by Innovex Golf I had formed Guerin Design Putter Company. Like many independent golf manufacturers, Rife was virtually dormant following the 2008 recession. After a few failed attempts to find new investors I left the company to start a super-premium 100% milled putter line that would give discerning golfers an alternative to Scotty Cameron putters. It's not enough anymore to make a milled putter that is just "milled" and pretty to look at. While that's a selling point with many golf consumers, a milled or forged- milled putter doesn't roll the ball any better than the same putter that has been cast-milled or simply cast like all the standard lines from Odyssey, TaylorMade, and Ping, many of which now have grooved inserts in the face, the accepted standard for putter face technology. My new Guerin line is 100% forged-milled, weighted to maintain a constant swing weight at any length, sole technology that keeps the face square at address regardless of hand position, and my new VSE face groove technology that improves accuracy by 50% on off-centre hits.
Why did you decide upon the Anser-style blade for the GR1 and the mallet for the GR3?
There are two basic styles of putters - blades and mallets. When starting a new brand the classic Anser-style GR1 blade is a way to reach the broadest customer base and a user-friendly full mallet GR3 has the broadest appeal among non-blade golfers. By taking this mainstream approach to design I am able to highlight the performance enhancing features of my new face groove technology, the RockerSole and the Tour Spec weighting features. As I mentioned I want Guerin Design putters to be the alternative to Scotty Cameron but with real game improvement technology that golfers can experience the minute they roll a putt with a Guerin putter. I have a mid mallet and a wide blade in development for this year.
The GR1, regardless of length, maintains a swing weight of D-7, which some would consider at the heavier end of the spectrum. What's the philosophy behind this?
Years ago when greens were slower it was necessary to have lighter putter head weights that produced lighter swing weights so that a golfer could hit the putt harder to get the ball to the hole. Today's greens are much faster and require less effort to hit the ball a similar distance. A heavier swing weight allows the hands to be quieter and stay on plane during the execution of a stroke. Also heavier head weights produce higher MOI allowing the putter head to resist twisting on off-centre hits.
Pages
Click here to see the published article.