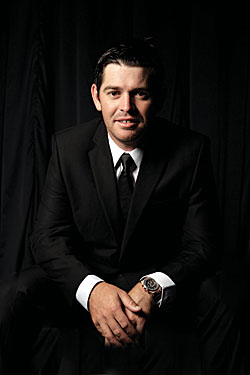 There are good times to interview a professional golfer, and there are bad ones. This was looking for all the world like the latter. Just moments earlier, Oosthuizen had missed a five-footer for par on the final hole of the second round of the Ballantine's Championship, which was taking place at the impressive Blackstone Golf Club in Seoul's chilly hinterland. The South African hadn't played badly at all – he was still very much in contention – but that bogey on 18, his only dropped shot of the round, looked for all the world to have darkened his mood. "He doesn't look very happy, does he?" said a Ballantine's representative helpfully as we watched him trudge off the green.
I had never met the 2010 Open champion and, to be honest, I was a little nervous after watching what had just happened. Talking to a jetlagged Afrikaner who has just three-putted from within birdie range doesn't have all the hallmarks of a great interview. But I needn't have worried. Oosthuizen, it would seem, likes the press – he was the first Open winner to send champagne into the media centre since Tony Lema in 1964 following his victory at St Andrews – and minutes later, up in the interview room, Oosthuizen walks in after signing his card and introduces himself with a broad smile – that famous gap-toothed grin – and a friendly handshake ...
We're at the Ballantine's Championship – but coming from Mossel Bay, where you own a restaurant, you're probably a bit more interested in wine than you are the sponsor's product ...
[Laughs]. True! Although I did try a little bit of whisky at the Gala Dinner, which went down well. But you're right. The restaurant we have – Route 57 – is doing well and we now have the Louis 57 range of wines. We've just launched the Double Eagle, which is a sweet wine, and the Open Championship, which is a shiraz. It's a good hobby to have on the side. I've got a good mate and we use his winery. It's all going really well and we're now looking to take it overseas.
The big news for you over the past year has been moving your family to a base in Florida. How difficult a decision was that to make?
It was interesting. After I won The Open I wanted to give myself a chance on the PGA Tour. You have to play with the very best in the world. The first year – in 2011 – I didn't like it; I didn't play very well. But I told myself to give it at least three years to see how I settled in. Then I had a great 2012 and really started loving the place and the types of golf courses. It was then that I decided to move. My kids are still very young, so it made sense to move before they started school.
Pages
Click here to see the published article.