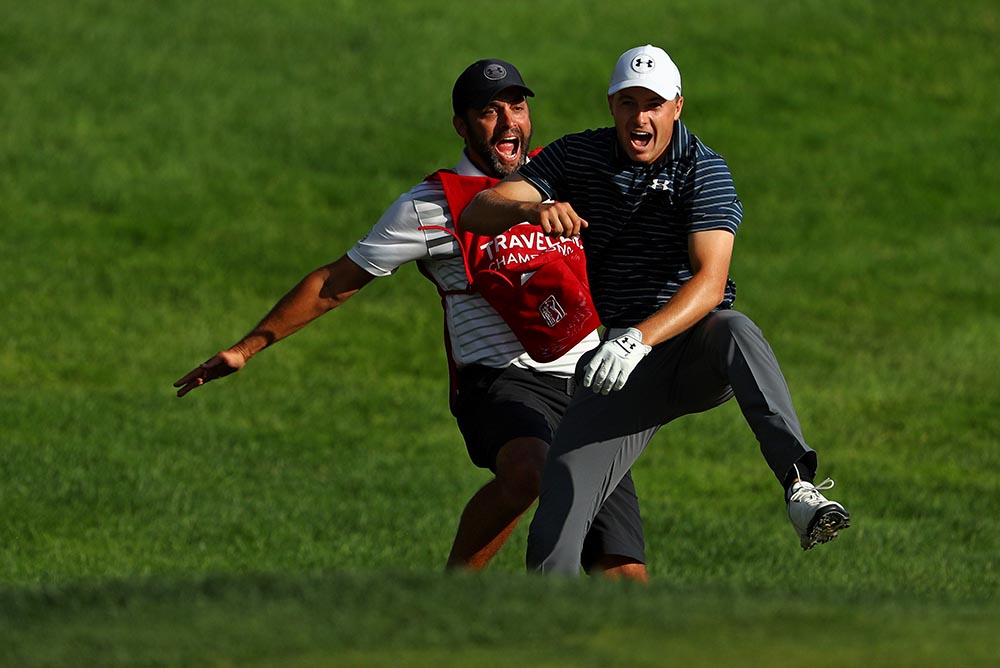 And indeed, the reality is that major player caddies are now earning serious money out there. An article in Forbes recently stated that ten caddies made at least USD$600,000.  Michael Greller who caddies for Jordan Spieth seemingly made over 2 million for the 2014/15 season. That was much more than his salary as a high school teacher. It was comparable to Steve Williams who had Tiger's bag back in his stellar 2007 season. The difference is that Steve only carried Tiger's bag in 16 tournaments while Michael had to lug round for 25. Mind you I still make that about 20,000 per round for Michael so don't feel too hard done to Sir. However, to rub things in I think Steve also got paid sponsorship endorsements of about 200,000 a year for taking his bib off on the 18th green or something obscene like that.
Mike 'Fluff' Cowan probably made the wisest move ever in leaving Tiger Woods at the end of the 2013 season to pick up the bag of Jim Furyk. As we know Tiger didn't prosper in 2014 while Furyk did, earning 8 million dollars. So, Fluff made 700,000 that season which was more than the 600,000 Tiger made on the course. Cunning stuff, Fluff.
Micah Fugitt who used to be a regular caddie back in Waco, Texas getting 150 hard earned dollars a round, managed by some luck to get the bag of Billy Horschel on the PGA Tour. Three years later he realised this was a perfect thing indeed. After winning the Zurich Classic in New Orleans, Horchel was lying 5th in the FedEx standings. He said to Micah that, 'if I win the FedEx Cup I am going to pay you a million dollars,' and he did.
When Henrik Stenson also won the FedEx Cup, he also paid his caddie Gareth Lord a million. Gareth certainly lived up to his name, lording it up and immediately buying a Ferrari. Lordy me! That puts my second hand, hundred quid Dawes pushbike in a hugely sad looking perspective.
Pages
Click here to see the published article.