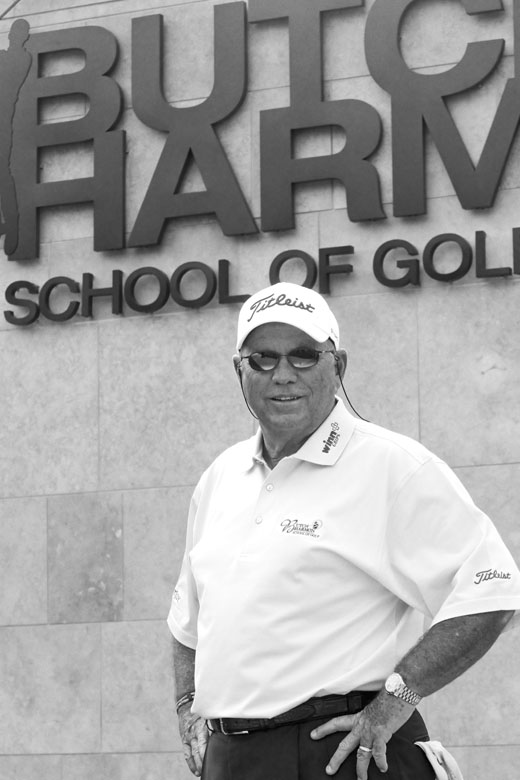 To say that Claude "Butch" Harmon has something of an outgoing personality is an understatement of epic proportions. I've just walked into the interview room at Caesars Golf Macau, the radically revamped club owned by Harrah's, the casino giant, and am introduced to the legendary swing guru, coach to some of the biggest names in golf, including the likes of Mickelson, Els, Scott and Couples. Gripping my hand with the strength that belies his 65 years, Harmon, a wide smile forming at his lips and a twitch in his eye, says, "So you're the a**hole I was warned about," before emitting a rich, hearty laugh, loud enough to cause a waitress carrying a trayful of drinks outside the door to buckle and nearly upend the whole lot. "I'm only kidding around," he continues. "It's great to meet you. Sit down and hit me with your best."
            This is Harmon's first visit to China, he cheerfully tells me, and he's here to unveil his state-of-the-art teaching centre, the Butch Harmon School of Golf. But it isn't his first visit to Asia. In the mid-1960s, after a falling out with his father, 1948 Masters winner Claude Harmon Sr, young Butch ran away to the army and spent the last six months of his three-year service in Vietnam. The twitch, indeed, is thought to be a legacy of the war, in which he led a mortar crew. Understandably, it's not a topic he enjoys talking about, and I'm not feeling brave enough to bring myself to ask him, especially since he's in such jovial mood. "This place is great," he beams, wafting his hand in the direction of the course and the semi-construction site that is the Cotai strip beyond. "But what I'm really excited about is helping the young golfers of Macau. Who knows, the next Tiger Woods could be out there. It's possible."
            The reference to Tiger is hardly surprising. For a decade, from Woods' junior golf days in 1993 until 2003, by which time he had collected eight major championship titles, Harmon and the world number one enjoyed arguably the most successful player-coach relationship in the history of the game. That came to an abrupt halt, it was reported, after Harmon disagreed with Woods' wanting to implement yet further swing changes. The break-up, which the former says was "very amicable", lead to Woods joining up with Texan Hank Haney while Harmon went on his merry way, coaching, commentating (Harmon has been a welcome addition to the Sky Sports broadcasting team in the UK) and writing (his autobiography, The Pro, came on the back of a veritable library's worth of instruction manuals bearing his name).
            As luck would have it, Steve Williams, Tiger's caddie, had made some rather unsavoury comments about Phil Mickelson at a charity golf day in New Zealand just two days previously, saying, "I wouldn't call Mickelson a great player 'cause I hate the p****." Given Harmon's involvement with both players this seemed like a good starting off point. And so it proved to be…
Pages
Click here to see the published article.