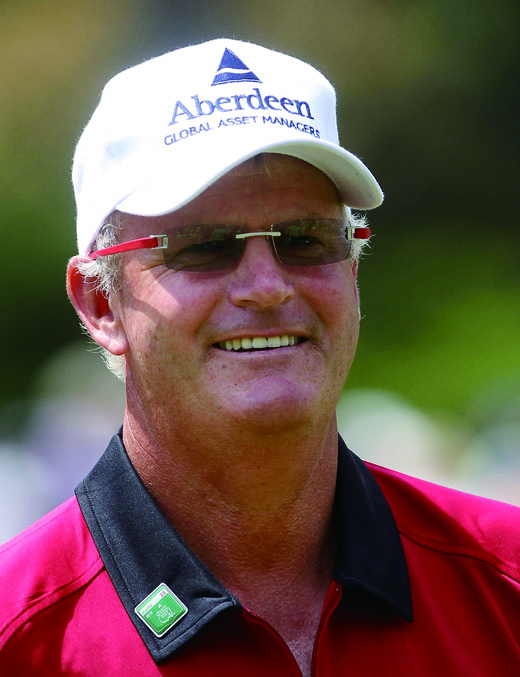 This will be the thirtieth time I've teed it up at the Masters and I'm really looking forward to returning to the challenge of Augusta. Although it's over 20 years since my win in 1988, I've played pretty well there in recent times and funnily enough, the 69 I had in the first round in 2010 was the best start I've ever had. I normally open with a 74 or something and thought it would be a breeze to make the cut. But I experienced the highs and lows of Augusta by adding an 86 on the second day. That's the Masters for you!
Augusta looks after its winners very well and I always enjoy the Champions Dinner that's held on the Tuesday of the tournament. It doesn't happen anywhere else – aside from St Andrews when the Open returns there – and it's nice to catch up with all the gossip that's going on. Looking down that table with all the familiar names is great, although I do miss some of the old characters, like Sam Snead. In past years we'd all huddle around Sam and he'd tell his dirty jokes at the end of the evening. It's a good night and something very few people have the opportunity to do.
When it was my turn to host the dinner [in 1989] I chose to serve haggis, which took a bit of explaining to Larry Mize and others who hadn't ventured over to the UK that often. But the hardcore – the likes of Watson, Nicklaus and Palmer – they'd all had it before. Besides, if I hadn't have served it I'm sure I would have been booed all the way from Scotland. The haggis got a lot of attention in the press but it was only an appetizer; I chose beef for the main.
Heading into the final round in 1988 I had a two-shot lead over Ben Crenshaw, who I was partnered with, and Mark Calcavecchia. I started well, and made a nice birdie at the ninth and a good par at ten to maintain my two-shot lead. Coming into Amen Corner I was feeling pretty good about things. I thought that if I could just get through the eleventh and twelfth holes then I've got two par fives to come – at thirteen and fifteen – and the seventeenth and eighteenth holes didn't scare me as much then as they do now. "We've got a good chance here," I told myself.
Unfortunately Amen Corner wasn't too kind on me that day. I hit a good drive down the eleventh but when I got up to the ball I saw that a big chunk of red Georgia clay was hanging to one side of it. I couldn't figure out where the ball was going to go – how the mud would affect the ball flight – but knew I had to keep it safe, which meant not going left and dicing with the pond there. I hit a pretty good shot but the ball was wavering about in the air and drifted right and ended up a couple of feet off the green. That's OK, I thought, I can get my putter to that.
I get down to the green and the blinking mud is still there – and to make matters worse it's right on the contact area, precisely where I'm going to hit it with my putter. What bloody else can I get served up here, I thought. In retrospect I should probably have bladed it with a sand wedge as my putt finished eight feet short and I missed the next. Bogey! I just had to accept it and remind myself that the Masters Golfing Gods are sending these little things down just to test me, to try me out. I quickly realized that I wasn't going to get it served to me on a plate.
Pages
Click here to see the published article.