Gene Sarazen
Wilson TurfRider 4 Wood
1935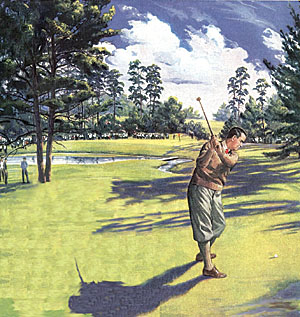 When Gene Sarazen approached his second shot on the now famous 15th hole, Craig Wood had just birdied the 18th to take a commanding three-stroke lead. Sarazen's ball was sitting down on the right side of the fairway, so he couldn't make solid contact with his spoon (today's 3-wood). Instead, Sarazen drew a more lofted club, his Wilson Turf Rider 4-wood. He hooded the face slightly and made a smooth swing.
According to Bobby Jones, who had finished his round and was in the gallery, the ball struck the tongue of the green and bound to the left. Moments later it landed in the cup for the rarest of all birds, an albatross – double eagle. Sarazen suddenly went from three down to tied for the lead.
"The Squire" parred in and the next day he defeated Wood by five shots in a 36-hole playoff. The tournament, then called the Augusta National Invitation Tournament, got a boost from Sarazen's "shot heard round the world" and temporarily boosted the spirits of a country mired in the Great Depression.
Today the USGA Museum thinks they may possess Sarazen's famous club, but no one can say for certain. Sarazen himself claims to have given it away on three separate occasions.
Over the years talk of the famous shot took its toll on Sarazen, who preferred to remember that both Jones and his childhood hero Walter Hagen witnessed it. Only 20 other people were so lucky.
Pages