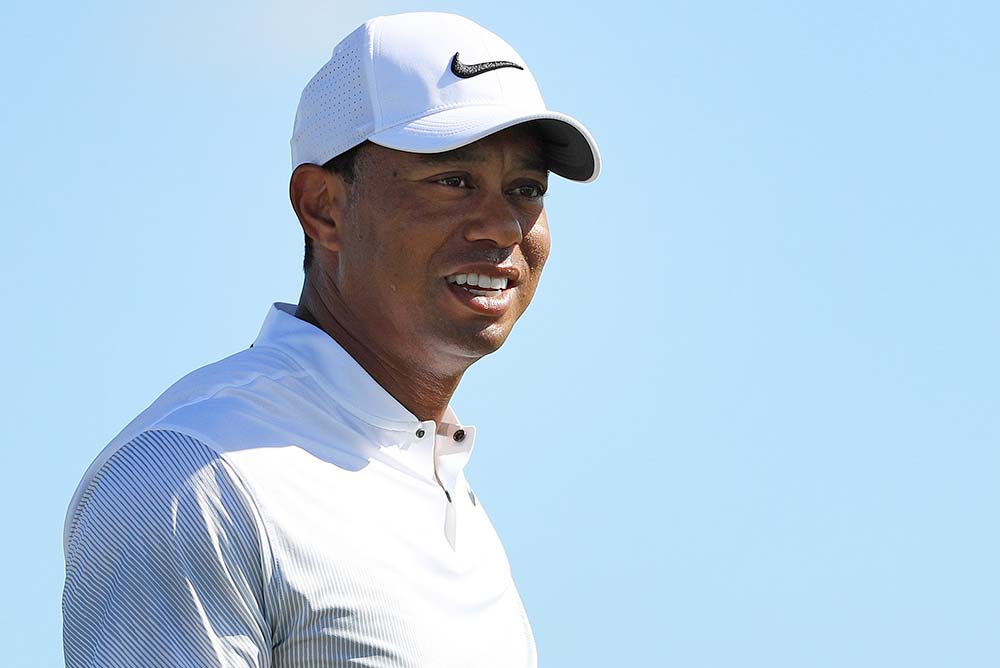 Those of us who witnessed Woods hobbling out of a Dubai bunker almost a year ago, and the millions more who saw those alarming DUI 'mugshots' from last May must hope, if only as a fellow human being as opposed to a golf fan, that Tiger has turned the corner, taken charge of and responsibility for himself and his actions and can mount the kind of comeback he and his medical team, Jay Monaghan and his PGA TOUR executive group and a global golfing press searching desperately for a compelling narrative could, just a few months ago, only dream of.
Woods is back in the world's Top-1,000 and rising, and, with a sensible schedule built around the 'Majors,' and the WGC events, eschewing the millions of dollars dangled in front of him to appear here, there and everywhere. Providing he remains physically and emotionally fit and well, having just turned 42, he could conceivably win a 15th 'Major,' and/ or a 19th WGC title, 10 and five years respectively on from his last.
Meanwhile, if Tiger's progress will inevitably be the theme running through world golf in general and the PGA TOUR in particular, the battle between golf's top brass for the big titles always makes for compelling viewing, whether on course, on TV and, increasingly-so, online.
Having got the 'Major' monkey off his back at the 74th time of asking, with an epic playoff victory over England's Justin Rose at Augusta national, Masters champion Sergio García will reveal the depth of his ambition and hunger, starting with a quest for a second, back-to-back Green Jacket since Tiger Woods successfully defended his crown in 2002. Whilst Justin Rose, who took some criticism for the, 'Old pal's act,' he performed with his friend and Ryder Cup teammate on the final day at Augusta will be looking to turn the tables a clinch a Green Jacket of his own.
Meanwhile, the 2018 U.S. Open, which heads north to Shinnecock Hills GC in New York State. Brooks Koepka the first of three all-American 'Major' title defences in succession, but it will be a fourth Stars and Stripes player who may well be attracting the most significant attention that week.
One Eldrick Tont 'Tiger' Woods enjoys automatic eligibility following his legendary victory - to all intents and purposes on one leg - 10-years-ago, edging-out Rocco Mediate over an 18-hole Monday playoff. Tiger's final U.S. Open exemption, unless he can weave his magic and defy the odds in what will be his 20th appearance in his 'Home,' Open Championship.
Three wins may feel - to Woods and his army of foot-soldiers - like a poor return, considering he was runner-up twice and only out of the top-20 once between and 1997 and 2010. And one can only speculate as to the brouhaha there would be the 42-year-old to be in contention come late afternoon Eastern Time on Sunday 17th June this year.
The British Open - or what the R&A like to call, 'The Open Championship,' will be staged at its most northerly - and many would say, most challenging - of links on the roster; Carnoustie, or, 'Carnasty' as many of its victims like to call it is. At the best of times, a truly authentic and tough test of golf, but when the wind blows - as it often does in Carnoustie Country - it is arguably the ultimate challenge the 'Majors,' has to offer.
Few will forget the 13th hole on the final day of last year's Open Championship at Royal Birkdale - no soft touch, especially as the wind picked-up. Jordan Spieth taking 20 minutes to place his penalty drop on the driving range, but, as many a player will testify, Carnoustie would not be nearly so forgiving.
Pages
Click here to see the published article.