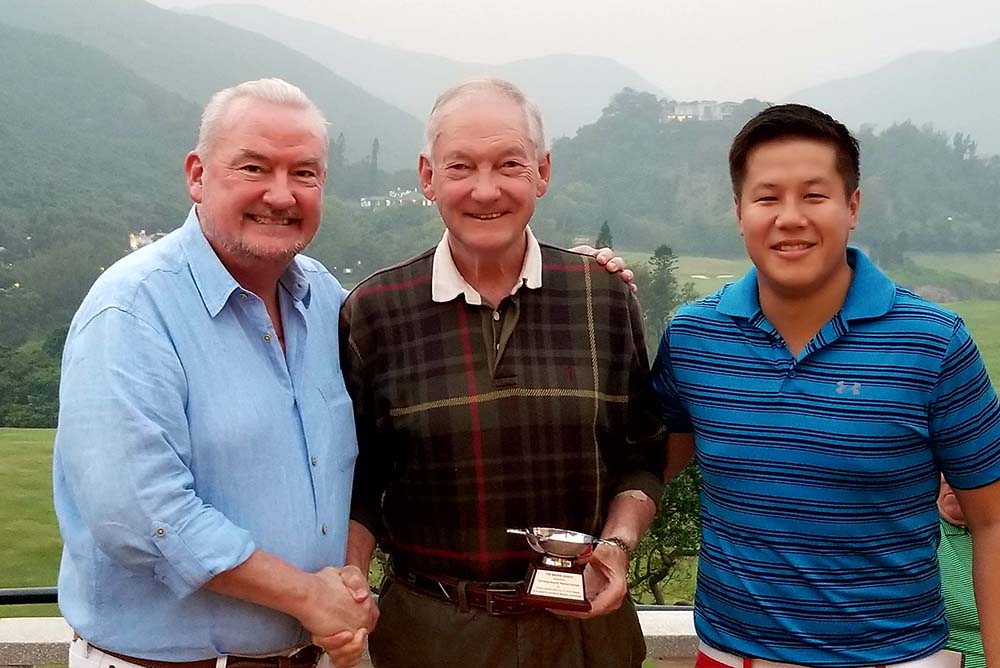 This trophy, modelled on a traditional whisky drinking bowl, is awarded to the top performing member of the Hong Kong St Andrew's Society, with many other prizes also on offer. After a week of unexpected and heavy thunderstorms and downpours the record-setting field were delighted to be greeted by balmy conditions and a course in great shape.
As ever, there was a titanic struggle for the silverware, with over a dozen players within three points of worthy winner Jim Mailer. Regular readers will recall Jim recently featured in these pages as the current holder of the R&A Calcutta Cup at St Andrews, and is the latest in a long line of strong champions the event has produced over the years.
In a brief speech at the end of the day, St Andrews Chieftain Charles McLaughlin recalled Jock Mackie, the late local legend who started the event in order to give Society members the opportunity to experience his beloved Shek O, one of the most beautiful golf courses in the world. As such, he would have been delighted to see his eponymous prize going to Jim Mailer, as the pair were inseparable for decades.
In a notable first for the event, guest Marco Jorge recorded a hole-in-one, a spectacular effort on the devilish 170yd 12th. Earlier, past Chieftain John "The" Bruce had caused a stir with his tee shot finding the cup on the difficult 206yd 9th. However, a review of slow motion HDTV footage confirmed that Brucie had actually teed off from the 10thtee!
There were two "Rounds of the Day" of a staggering 43 points each. Within that, the "purple patch" of the day was the stunning 26 points amassed on the back-nine by Dr. Jon "The Vet" Williams, which included 4 birdies. This was enough to pip fellow 43-pointer Robert Pegg on a countback.
Whatever term is the opposite of "purple patch" applied to the day's keenest golfer, Alun Grassick, who recorded an "unlucky for him" total of 13 points. He now has a print of "The Golfers" (available from the HK Golfer Store) to contemplate at home, in lieu of actually going onto a golf course anytime soon…
Best team prize was handily won by the team of David Law, Steve Warrick, Robert Pegg and Marco Jorge with a stunning total of 152 (averaging 38 points each). Longest drive was won with a blast of over 300 yards by guest Jamie Redmayne, and, in a shocking plot twist, Fiona Donnelly added to her legendary collection of vacuum cleaners with longest drive and best ladies score.
Event organisers HK Golfer Events want to thank the many corporate - and anonymous individual - sponsors who made the day such a success:
Merchiston Castle School supplied the goodie bag plus balls and pins, with hats from Arquitectonica and a Pitchfix and vouchers from the HK Golfer Store. Cigars were supplied by Azan & Roberto Duran Cigars.
Well over a dozen prizes were awarded on the day, including a magnum of Deutz champagne and umbrellas from Montrose Fine Wines, 4 bottles of Burgundy from Phoenix Fine Wines & Vineyards, a range of electrical appliances courtesy of TTI, 3 bottles of Eden Mill Gin, Bordeaux wines from the St Andrews Society, and prizes from the HK Golfer Store.
Last, but certainly not least, was a training voucher (worth US$4k) from the Black Isle Group, presented to the winner.
With the traditional "sundowners", toasts, and occasional singing under the stars, the event has become a "must play" for Scots in Hong Kong and their guests. If you are interested in participating in next year's event, please contact us at info@hkgolfer.com.