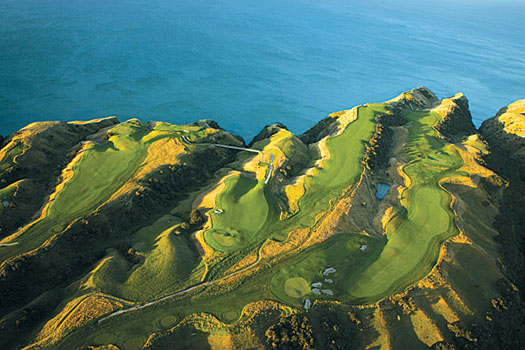 The longest drive at Cape Kidnappers is that between the public road and the clubhouse. It takes a full 15 minutes to get from the gate to the cluster of luxury lodge buildings that accommodate and dine those fortunate enough to find themselves staying at this most wonderful of retreats – a journey that takes you through a sheep and cattle station and bush land. This degree of seclusion means that the golf course flows over pristine land, wedged between a working farm and the towering cliffs of the cape. The back nine extends along several spectacular fingers of land, separated by deep gullies that dip down to the sea. From these points you can look beyond the cliffs and along the shore line across the wine country of Hawke's Bay and, at the other end, the art deco township of Napier. Incidentally, Cape Kidnappers was so named after Captain Cook's Tahitian translator was nabbed, but later released, by local Maori after HMS Endevour made landfall there in October 1769. Naturally enough I suppose, the translator in question was delighted to be rid of the place. Nearly 250 years later I stayed for two nights and didn't want to leave.
The owner – American hedge fund billionaire Julian Robertson who also owns the equally well regarded Kauri Cliffs course north of Auckland – and renowned architect Tom Doak, in recognition of the nature of the land have deliberately retained a rugged feel to the course and its surrounds. There is no superfluity. The tees are marked with simple wooden pegs; the clubhouse, though decidedly upscale within, is compact and roofed in the local style with corrugated metal.
The scale of the landscape and generosity of lands available for the layout makes the fairways seem small my comparison. This is a visual distortion that must be dispelled in the golfer's mind as you need plenty of confidence to hit out at the targets here. The fairways are wider than they look – indeed, they can be considered generous – which makes a great deal of sense. Most will travel a long way and spend a lot of dollars for the opportunity to play here: Cape Kidnappers, while comfortably one of the finest courses in the southern hemisphere is mostly about fun. If the rhythm clicks, it becomes one of the most exhilarating driving courses in the world.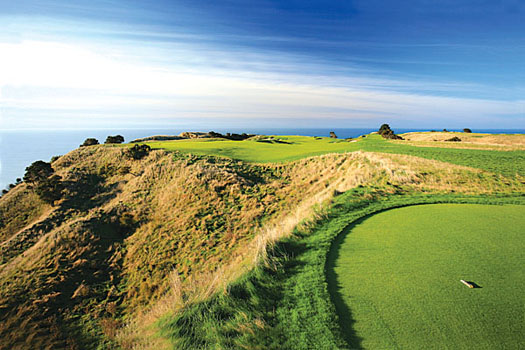 Pages
Click here to see the published article.