It was a sunny mid-September morning in British Columbia. At precisely 8:30am the Whistler Mountaineer chugged gently out of North Vancouver railyard, on its daily run to the alpine resort of Whistler, three-hours and 120-kilometres away, along a track with more twists and turns than an Agatha Christie novel.
With our golf clubs stored safely on board we settled down in the first-class Glacier Dome car – all white linens, waiter service and unobstructed views, and toasted the trip with glasses of Okanagan bubbly while tucking into hearty cheese omelettes with Canadian back bacon. It was a tasty beginning to a week-long British Columbia golf journey by trains, ferries and automobiles, teeing it up on some of the best tracks around Whistler, Vancouver Island and Vancouver.
Since its launch in May 2006, the Whistler Mountaineer has carried tens of thousands of passengers along this scenic strip that cuts through canyons and past snow-capped mountains to the southern edge of Whistler. We enjoyed spectacular views of Vancouver and as the early morning mist slowly lifted off Howe Sound (the most southerly fjord and glacially carved inlet in North America), the train trundled on through pine forests, past Horseshoe Bay and climbed up alongside the serpentine Sea-to-Sky Highway.
After breakfast, we joined some of the other passengers in the historic Henry Pickering 1914 observation car. Fellow golfers were on board, easily spotted by their upturned baseball caps featuring golf equipment logos. The slow clack-clack rumbling of the rails gave way to an eerie screech of metal as the train turned corners and entered tunnels. As we reached the trestle bridge at Cheakamus Canyon the train slowed to a snail's pace while passengers angled through the open windows eager for a photo of a cascade tumbling into the pale-turquoise waters below.
Ski & Golf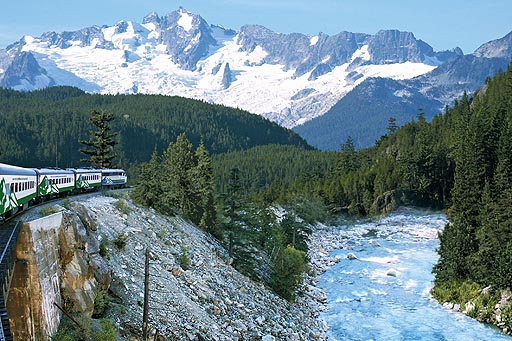 Whistler is consistently ranked the premier ski, snowboarding and mountain biking resort in North America, and the numbers speak for themselves: one vertical mile drop; two side-by-side mountains connected by a cosmopolitan village; more than 200 trails; three glaciers; 38 lifts; and 16 alpine bowls. Whistler has gained even greater fame since hosting the 2010 Winter Olympics, thanks in part to the completion of the Peak-to-Peak Gondola – a stunning 4.4 kilometre cable car crossing 415 metres above the valley floor that unites Whistler and Blackcomb Mountains.
In recent years, Whistler has gained a reputation for activities on the green stuff as much as the white, with four championship courses providing classic mountain golf. There's Arnold Palmer's first ever Canadian design at the Whistler Golf Club, which was the area's first course built in 1983, the Golden Bear's Nicklaus North Golf Course; Robert Trent Jones Jr's mountainside Chateau Whistler Golf Club and 30 minutes drive north at Pemberton lies Bob Cupp's Big Sky Golf & Country Club, which lies at the foot of the soaring granite outcrop of Mount Currie.
Alas, we only had time for two of the quartet – Nicklaus North and Chateau Whistler. Distinctly different from the other Whistler golf properties, the latter is carved from the side of Blackcomb Mountain with dramatic elevation changes of over 400 feet. Most people playing here opt to take a cart; we, being British, eschewed motorised help and set off on foot.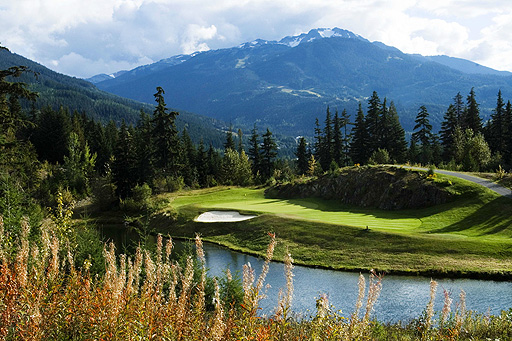 "Are you sure you are up for it guys," said the starter with a look on his face as though we planned to walk blindfolded across a minefield. Making things easier were the snazzy state-of-the-art pull trolleys that wouldn't look out of place in the gardening section of a DIY store – sporting huge mountain bike wheels and a handy metal basket for odds and ends.
Chateau Whistler is a heart-pumping golf workout not to be missed, marching along pristine fairways that climb and plummet, through massive granite outcroppings, glacier-fed creeks and majestic centuries-old Douglas firs.
The Bear Essentials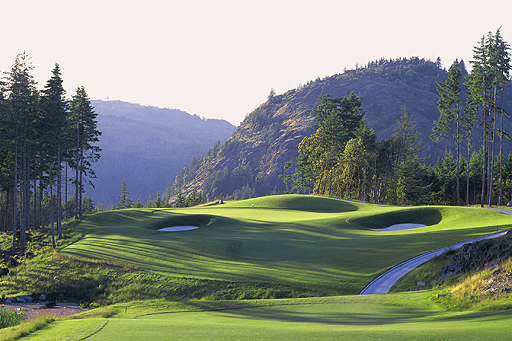 Surrounded by mountains on the shores of Whistler's Green Lake, the par-71 Nicklaus North is eminently playable from five sets of tees, and on the nine par-fours and four par-fives, the water features, distinctive Nicklaus bunkering and landing areas are set up to invite players of all abilities to use drivers. Yet, for all the potential drama the long holes offer, it's the five par-threes that will linger long in the memory, especially the 226-yard 17th, which is played to a peninsula green. Everything at Nicklaus North seems to revolve around bears – the black variety that inhabits the region. For starters, the pro shop is stuffed with enough Golden Bear gear to keep Jack Nicklaus clothed for a lifetime without visiting a laundry.
"There's definitely a few black bears in some of the wooded and marshy areas on the course, but they are usually harmless," the guy at the desk informed us as we checked in for our round. "In fact one has been spotted out near the snack shack today."
When we reached the tee at the par-three 10th there was not a soul around and the snack shack was closed. Not a good sign. Bear reminders such as bear-shaped tee markers, bear-proof litterbins and a 'Bear Essentials' sign (a guide to the habits of black bears) didn't help the tenseness of the situation.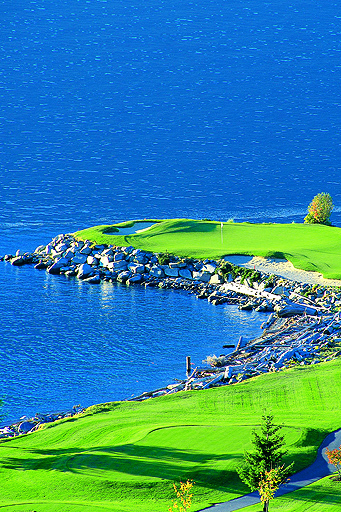 After constantly looking over his shoulder and re-gripping his club more times than the Sergio Garcia of old, my photographer brother Paul proceeded to stiff a six-iron to two feet and his first birdie of the day; must have been all that adrenalin. For the remainder of the round we kept a close eye out for the local wildlife, but alas, the closest we came to a National Geographic moment was when we discovered what looked suspiciously like a pile of bear droppings next to the 14th green!
After two days in Whistler we drove our hire car down picturesque Route 99, also known as the Sea to Sky Highway, towards Vancouver and a tee time at Furry Creek Golf & Country Club –"British Columbia's Most Scenic Golf Course" – where some of the scenes from the comedy golf movie Happy Gilmore were filmed.
One glance from the first tee, with its striking 165-foot plunge towards the tranquil waters of Howe Sound and we quickly realised that we had arrived at a course like no other. There are precious few layouts that can generate a genuine sense of awe for several holes at a stretch. Exceedingly rare is a course that can sustain the feeling for an entire round. Furry Creek is such a place. One of the classics is the par-three fourteenth that dares you to drive over a beach littered with bleached driftwood logs to an emerald green jutting into the water.
After munching on juicy '5-iron' steak sandwiches washed down with a couple of Arnold Palmers (half lemonade and half iced tea) at the club's grill we continued to Horseshoe Bay for the 95-minute ferry crossing to the port of Nanaimo on Vancouver Island. BC Ferries is known for showcasing British Columbia's spectacular scenery and proud maritime history and travelling this way is like a mini-cruise in itself. Nearby Victoria is the capital city of British Columbia and has a fascinating history, which is preserved in the city's many museums and heritage buildings. The picturesque Inner Harbour is the hub of downtown activity and bustles with kayaks, yachts, whale watching boats and floatplanes.
Located 20 minutes away was our home for two nights, the Westin Bear Mountain Golf Resort & Spa – a master-planned community built around Vancouver Island's first Jack and Steve Nicklaus co-designed golf course, the Mountain Course and the newer friendlier version of the original, the Valley Course. The resort offers a complete lifestyle experience combining the secluded luxury of a rural mountainside wellness resort with world-class golf.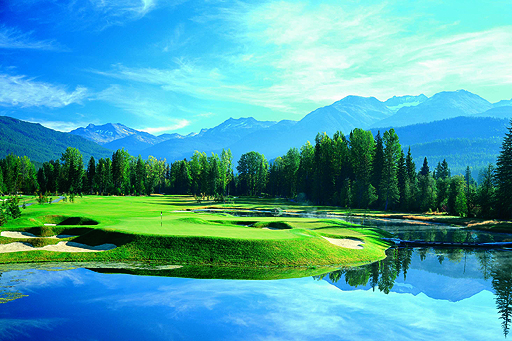 There's no question of roughing it here, with sumptuous suites so spacious you need a map to find your way around.
The following morning we joined Club Pro Steven MacPherson in tackling the Mountain Course, which bizarrely has 19 holes on the scorecard; with an extra par-three situated between the 14th green and the 15th tee with stunning views of Victoria. "It was Jack's son Steve who suggested it, figuring it would make a fun hole for a friendly wager," Steven told us on the tee of the lengthy opener.
"When Bear Mountain opened in 2003 it was the first new course on the island in 12 years and it created a lot of interest in the region," MacPherson continued. "On the official open day I had the pleasure of carrying Jack's bag. He went straight to the 'gold tees' and boy did he hit the ball well that day".
Everything about Bear Mountain is top-end; two stunning forested mountainside designs, teeboxes pristine enough to eat off, fast undulating greens and thick US Open-style greenside rough that will really test your lob wedge skills to the maximum. To assist all golfers, GPS-linked systems on each cart relay yardages to pins and hazards, and even allow you to make lunch orders ready to pick-up before starting the back nine. The lobster sandwiches are highly recommended.
Olympic Golf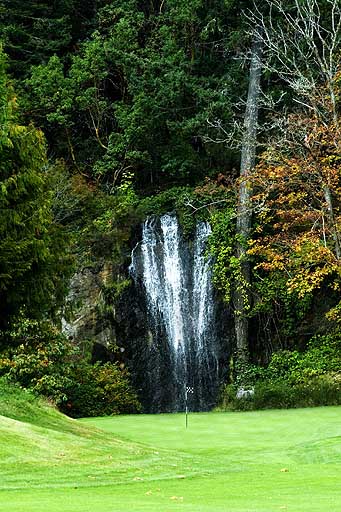 A short drive from Bear Mountain is Olympic View Golf Club, another excellent Vancouver Island course. Here, it's all about tranquillity, seclusion and nature, with the magnificence of the Olympic Mountains, soaring bald eagles, grazing deer and two waterfalls including a spectacular 60-footer tumbling behind the green of the par-four 17th – one of the most photographed holes in British Columbia.
"Olympic View Golf Club was the first course in British Columbia that Tiger Woods played in 1994 in a US amateur event, and of course he won it," said Jason Lowe, president of Golf Vancouver Island, as we enjoyed lunch in the clubhouse restaurant after our round. We also learnt from Lowe that if you make par or less on the 107-yard par-three 16th, you're better than Tiger Woods, who bogeyed the hole two days in a row even though it's rated the course's easiest hole.
After a late afternoon ferry crossing from Swartz Bay to the Tsawwassen Ferry Terminal, we arrived back in Vancouver, set against a stunning natural backdrop of mountains and ocean. This gateway to the Pacific Rim is known for its resident's quality of life and was recently voted the best place to live by the Economic Intelligence Unit [there are certainly enough Hongkongers living in Vancouver to vouch for this]. Vancouver is sassy, sophisticated and outdoorsy, a city with a cosmopolitan attitude offering superlative shopping, lavish dining, top-drawer theatre, funky districts, galleries, great nightlife and the beautiful Stanley Park – one thousand acres of greenery that hugs the downtown area and provides a playground or an oasis for everyone.
If you still have enough time and energy for teeing it up, other courses in the Vancouver area include: Northview Golf & Country Club featuring two Arnold Palmer championship courses (Canal and Ridge), Mayfair Lakes Golf & Country Club near the airport, a Lee Trevino-designed public course at Swan-e-set Bay Resort & Country Club, and be greeted by the plus-foured-attired caddies at Westwood Plateau Golf & Country Club, which offers glorious views of Lower Vancouver from several holes.
It had been a long way to come for six rounds in eight days, but as we packed away our clubs for our trip back home, we were already discussing another British Columbia golf trip – with images of the stunning scenery, local wildlife and well-struck drives soaring towards a backdrop of forested mountain slopes etched firmly in our minds.
TRIP PLANNER
WHERE TO PLAY
Chateau Whistler Golf Club fairmontgolf.com/whistler
Nicklaus North golfbc.com/courses/nicklaus_north
Furry Creek golfbc.com/courses/furry_creek
Bear Mountain: bearmountain.ca
Olympic View: golfbc.com/courses/olympic_view
Northview Golf & Country Club: northviewgolf.com
WHERE TO STAY
Whistler/Westin Resort & Spa westinwhistler.com
Vancouver Island/Westin Bear Mountain Golf Resort & Spa bearmountain.ca
Vancouver/Georgian Court Hotel georgiancourthotelvancouver.com
USEFUL CONTACTS
Whistler Mountaineer wwww.rockymountaineer.com
BC Ferries wwww.bcferries.com
British Columbia Golf golfbc.com
Vancouver Island Golf golfvancouverisland.ca
Whistler Golf golfwhistler.com
British Columbia Tourism britishcolumbia.travel
Click here to see the published article.