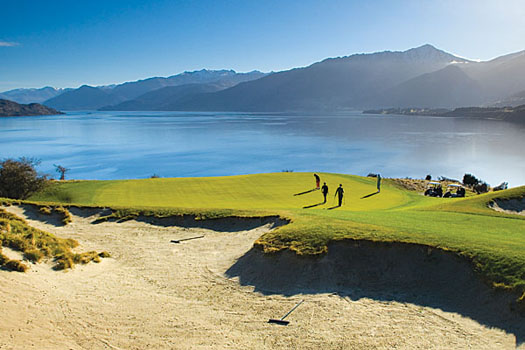 I challenge any first-time visitor to Queenstown not to be in awe. The breathtaking mountain range that surrounds the resort town, part of the Southern Alps, is known as the "Remarkables" and it doesn't take a genius to work out how they got their name. Add to this the sheer majesty of Lake Wakitupu and Queenstown can rightfully claim to be one of the planet's most beautiful and idyllic settlements. There's a reason New Zealand has stringent immigration laws: the place would be completely overrun without them.
Originally settled in the 1860s at the height of the country's gold rush, Queenstown has in more recent times become known for extreme sports - bungy jumping was born here in the late 1980s - as well as being the home to a plethora of world-class fishing sites. But in the past few years, golf has been added to this cosmopolitan resort town's ever-growing list of outdoor pursuits - and not just good golf: Queenstown golf is truly memorable.
WHERE TO PLAY
Jack's Point *****
This could well be the best course you've never heard of - and contrary to first-time visitors' belief, it has absolutely nothing to do with Jack Nicklaus. Named after "Maori Jack" Tewa, an early Queenstown settler who, legend has it, saved the life of a British officer whose boat had capsized off this point of Lake Wakatipu, this John Darby design, wedged in between the towering Remarkables and the enticing blue water, offers a thrilling ride from start to finish. Cape Kidnappers and Kauri Cliffs might be New Zealand's best-known courses but Jack's Point ranks right up with this pair in terms of quality.
First opened for play in 2008, the course starts out from a valley floor next to the simple but elegant clubhouse with a straightforward opener before ascending sharply until you reach the sixth, a glorious and tempting short par-4 that almost forces you to reach for the driver. While Jack's is known for its fine conditioning - greens routinely run at around 11 on the stimpmeter - there is a distinctly rugged nature to proceedings here, with many of the greens protected by blown-out bunkering and native grasses.
The lake is first spied at the fourth hole but the view from the seventh tee is arguably the most memorable. This par-3 plays straight downhill to a wide but shallow "infinity" green that almost seems suspended in the water. Watching a (hopefully) well-stuck tee shot rise and fall against the mountain and lake backdrop is a real joy.
The back nine is every bit as interesting, with the rising and plunging terrain providing the perfect canvas for the little known Darby - a golf and landscape architecture graduate from Harvard - to produce some of truly stunning holes. Take the 15th, for instance, a 383-yard par-4 where players hit from an elevated tee to a snaking fairway framed by a handmade stone wall. The shortest route over the wall down the right side leaves a long-iron to a plateau green protected by yawning bunkers; good hitters can challenge the wall further down on the left, leaving an easier approach. It's a risk though: fail to make the carry and you're entering double bogey or worse territory. The 15th, like the vast majority of holes here, is a strategic masterpiece, one that you'll want to revisit time and time again.
Jack's Point Golf Course
Yardage: 6,906 Par: 72
Green Fee: HK$1,049
Designed by John Darby
Contact: www.jackspointgolf.com
Pages
Click here to see the published article.