Jian Lake Blue Bay GC
Coastal Cracker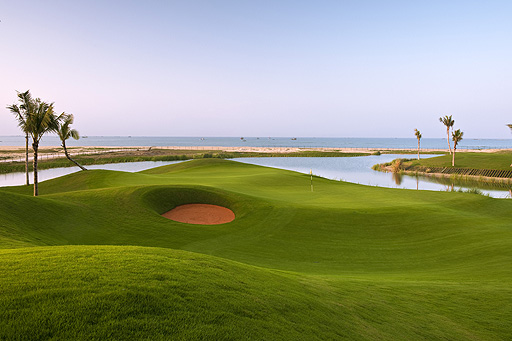 Although not set to open until early next year, this Mark Hollinger (JMP) design, situated on Hainan's eastern seaboard, has the makings of something very special indeed. Developed by the same owner as the highly rated Jian Lake in Hangzhou (another Hollinger design), Blue Bay is a visual stunner, with sandy wastes and pot bunkers contrasting magnificently with emerald-coloured playing surfaces and the azure waters of the South China Sea. The finishing stretch of holes, which takes advantage of a spectacular oceanfront routing, can play especially tough when the wind whistles through.
Because of its length, the wonderful short par-four 15th offers a birdie chance but only if the correct tier of the multi-terraced green is found with the approach. The 17th, meanwhile, could well become a candidate for China's toughest par-three. Stretching to over 230 yards from the tips, the tee shot has to carry a salt water estuary to a large green bisected by a pair of bunkers. Perhaps not entirely conventional, it's certainly memorable.
Pages
Click here to see the published article.