Lion Lake CC
A Roaring Rebirth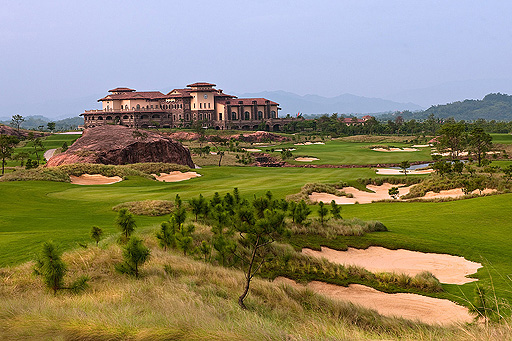 The Moon Course at this fully-fledged resort, situated on the outskirts of Guangzhou, has been making waves since it opened for play at the end of 2009 – and it's easy to see why.
Rick Jacobson, who was formerly with Jack Nicklaus' design company, is the man responsible for the work and he has sculpted a full-bore track that rolls across pleasing, undulating terrain. (The course was built in part over the original Lion Lake course, a disappointing Larry Nelson design that the new owners of the development were quick to bury). Artfully bunkered, with large, jagged-edged pits protecting generally small, well contoured greens, it's fair to say that the Moon Course provides a serious challenge. Our advice: don't leave home without a deft short game.
What really makes this track stand out, however, is its distinctive scenery. Large red natural rock formations frame many of the holes on the Moon Course and Jacobson deserves credit for taking advantage of these monoliths and weaving a wonderfully varied course through them.
Lion Lake is home to a second 18, the Moonlight Course, another Jacobson design, and is operated by Troon Golf, the American course management company. www.lionlake.com
Pages
Click here to see the published article.