Stone Forest International CC
The Stone is the Show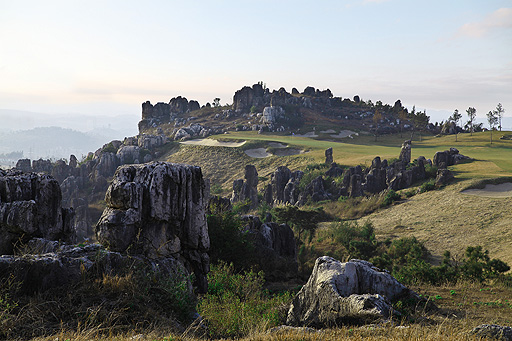 For sheer spectacle there can be few places in the world that rival Stone Forest up in the hills of Kunming. Built beside the Stone Forest National Park, a popular attraction in its own right, the three courses at this impressive complex have been threaded through a primeval landscape of limestone karst formations, dense pines and lakes. Playing here is a seriously surreal experience; one half expects to stumble upon the odd brontosaurus or two when cresting a few of the more hilly landing areas.
Of the three layouts – which were all designed by Brian Curley – the Masters Resort (B Course) has been tagged as the tournament course, but as spectacular as it is, we prefer the other two – Yufeng Ridge (A) and Leader's Peak (C) – because of their playability and jaw-dropping selection of holes. Unfortunately, Leader's Peak, which combines a front nine that thunders through tall pine trees and a fabulously fun finishing stretch in among the rocks, is open to members only. Conditioning at all three layouts is nearly flawless, with the cool season grasses providing sublime playing surfaces throughout. www.stoneforestgolf.com
Pages
Click here to see the published article.