Mission Hills Haikou
Double Happiness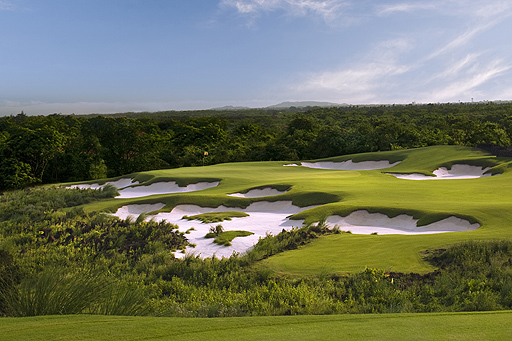 Mission Hills isn't the type of organization that does things by halves – you only have to visit the club's original complex in Shenzhen, with its 12 courses and endless post-round amenities to realize that. But the new Mission Hills facility in Hainan – which already comprises 10 courses (and counting) located just 15 minutes from Haikou's airport – is arguably even more impressive, at least from an architectural standpoint.
Brian Curley, who is without question the most prolific designer in China – and therefore the world – today, has done a staggering job in creating enough diversity to make every layout here, even the two par-three tracks, worth playing. But the undoubted stars of the show are the championship-rated Blackstone and Lava Fields courses. The former, which will host the World Cup in November, features striking, ragged bunkering and numerous carries from the tee is a particularly stout and lengthy test, one that recreational golfers are well advised to tackle from a suitably forward tee.
Lava Fields is very similar in scope to the Blackstone but is rather more forgiving thanks mainly to the width of the landing areas. It's also, in our view at least, a touch more subtle, especially around the greens. Throwback-style bunkering and interesting shifts in topography, plus a brilliant set of par-threes, makes Lava Fields the pick of the bunch. www.missionhillschina.com
Pages
Click here to see the published article.