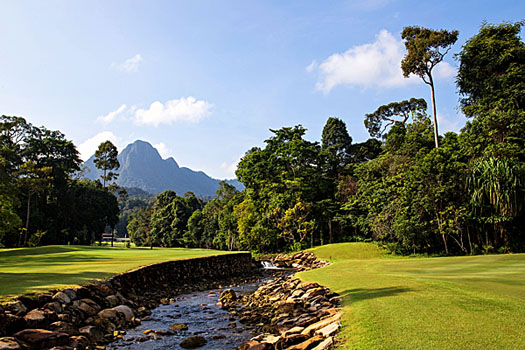 Instead of mining bunkers for strategic and visual interest, other features that exist on the property are used to great effect to create the drama and determine the play. For instance, waves of heather and native vegetation eat into the corridors of play at strategic moments throughout the round. Interesting humps and bumps and general contours bound many of the green complexes and dictate some of the landing areas. To go with that, many outstanding trees frame the holes and are very pleasing on the eye. In addition, there are pleasant stream systems across the site that meander in and out of the course at opportune moments and add to the danger. The topography - severe at times - gives the course added variety and on many occasions allows the golfer to survey the splendid surrounds.
Royal Ashdown Forest is somewhat of an unconventional golf course as well in that there is the odd blind shot to go with crossing holes at the start and finish. This is all infused with some fascinating green complexes and a solid routing that makes good use of the land. It certainly is a treat to look at and play.
What is interesting is that without any bunkers the golf course seems even more entwined with its surrounds - almost at one with nature. It fact little about the golf course seems contrived, artificial or forced. It melds naturally into its environment and because of this has a real sense of place and a character all its own. It is a delight to play - forgiving at times, fun, interesting and strategic as well. Not over maintained or wanting to be anything more than it is.
I suspect when most golfers finish a round at Royal Ashdown there is no longing for sand. Come to think of it sand would have hardly made the test any better, but it would certainly have made it much worse … there is a lesson in this.
Paul Jansen is the principal architect for Paul Jansen Golf Design. To learn more about Paul and his projects visit his website at www.jansengolfdesign.com
Pages
Click here to see the published article.