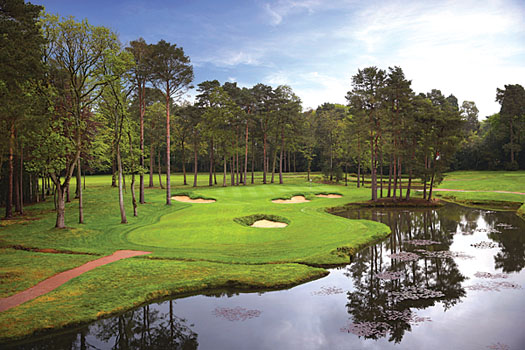 It should not come as a surprise - given many of my previous ramblings - that links golf courses and golf courses with links-like characteristics are my favourites. These types of golf courses call for creativity and imagination and are delightfully fun to play. They may not be maintained to the level of some of the golf courses we see on TV but that hardly makes them worse. There is very little contrived about these types of golf courses and if you look at any list of the best golf courses on the planet I am certain than more than half of these are linksy in nature - proof that you don't have to be "showy" to be good.
The Woking Golf club - on the outskirts of London - is a good example of a course that embraces a less is more philosophy and the same can be said of West Sussex, one of my favorite golf courses in the United Kingdom. Both of these courses are wonderful to play and at no time during the round are you bombarded with a myriad of obstacles to the point that you feel you could be suffering from double vision. Added to this there are a number of golf courses in the United States where a less is more approach is very real - I think of Crystal Downs and Prairie Dunes as two such examples. In Asia, at the Laguna Phuket Golf Club in Thailand we adopted a less is more approach to the redesign. This has worked a charm given that a high percentage of golfers have welcomed the change and the cost to maintain the course is less than before.
I also agree that a golf course should be presentable but at times I question the lengths some clubs will go to achieve this. As an example, I am sometimes startled at how much certain clubs will spend on decorative flowers and plants that have little impact on the play other than beautifying the golf course - sometimes to the point where you could be mistaken for thinking you were on a stroll around the Royal Botanical Gardens. If I owned a golf club I would be focusing on the play areas and ensuring that they were in good condition before anything else.
As we look forward more golf courses are going to embrace the idea that less is more. In some cases this will be driven by economical necessity and in other cases clubs will want to show that they can be self-sustaining. When we think of excessive let's think of how many exceptionally good golf courses there are on this planet that have great balance of features and are not over the top in anyway.
Paul Jansen is the principal architect at Jansen Golf Design. For more information visit his website at www.jansengolfdesign.com
Pages