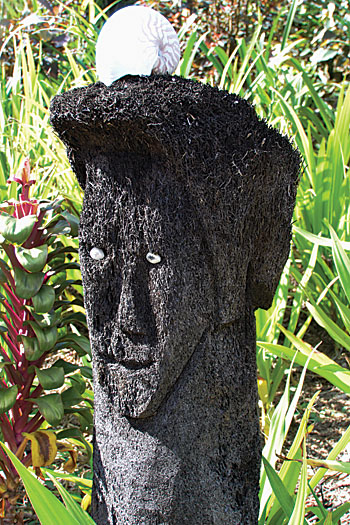 Kidd both designed and built this course over a three-year period and spent a large part of that time on the island. His creation initially weaves through dense semi-tropical forest, into the prevailing wind, although huge elevation changes mean the ocean is never out of sight for too long. Soon the course runs alongside lagoons and it is here where players encounter a most welcome sea breeze. The views from this stretch of holes are stunning. A relaxing stop at a charming clifftop "half way hut", which provides yet more splendid vistas over Satakoro Bay, is immediately followed by a sweep downhill to Wai Vitala Bay at the inviting par-4 10th, before swinging back inland and climbing up to the clubhouse.
Each hole at Laucala has in attendance what can only be described as a guardian angel, a carved and decorated black tree fern trunk, featuring a face hewn from the wood, known in these parts as balabala. Each one is there to offer golfers protection against the spirits, and to be frank, they are rather creepy-looking things. But it is good to know that in the most individual of sports, there's someone - or something - else on your side.
Throughout, the gentle soggy thuds of my duff shots were set amidst the fantastic chirps and calls of a stunning variety of local birdlife, including some up close and personal encounters with the brilliantly coloured kingfishers that are the basis for the resort's logo. If you are lucky, as I was, you will also be treated to the sighting of the spectacular flame dove, which is only found on this group of islands.
Kidd has a deserved reputation for creating testing layouts, and some might say overly penal at times. At Laucala, he has sensibly provided a series of tee boxes that make a round from the tips a very robust challenge, albeit one which grants the finest views, while offering a more relaxing test from the forward tees. I would strongly recommend trying both, or at the very least going to the "blacks" to check out the vistas.
A visit to a golf-less Laucala Island would be one of the most fantastic leisure experiences imaginable. Add on a championship golf course, in a stunning location, by a world famous designer, which almost no one else ever gets to play and this surely becomes the ultimate global destination for the golfer who has it all. You will think you have died and gone to heaven, so it is just as well you ticked Laucala Island off your bucket list first!
Pages
Click here to see the published article.