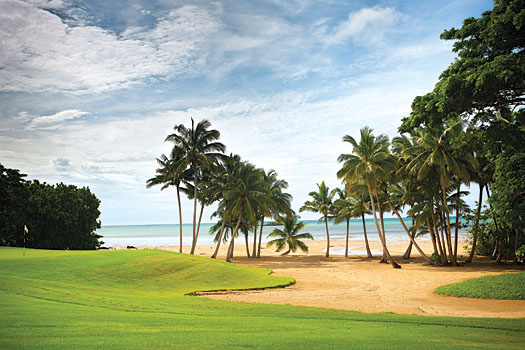 Which brings us to the most unique thing about this isle of superlatives. Most private islands have great food, most private islands have luxury accommodation; heck, some other private islands might also have a mini submarine. But nowhere else has an 18-hole championship golf course, and certainly not one designed by David McLay Kidd.
Fresh from gaining global acclaim - at least within the golf industry - through his eponymous creation at Bandon Dunes, the Scotsman was tapped to carve a world-beating course out of virgin jungle on this speck in the Pacific Ocean. The result is a surreal gem in jaw-droppingly spectacular surroundings.
There is a clubhouse, with lockers and shower facilities, and the fully stocked proshop has several sets of rental clubs, which you can get used to on the fully-grassed driving range. Next door is a great "19th hole", complete with bar stools and large flat-screen TVs to watch sports.
All that is missing are the golfers.
I was shocked to learn that only 160 people or so play this course each year, less than one every couple of days, most accompanied by the resident pro, Tony Christie, a bubbly Kiwi and a fine player. Despite apparently not knowing the way to Amarillo, he is a 3-time Fiji Open champion and as recently as last year qualified for the New Zealand Open, a prominent event on the PGA Tour of Australasia. As with everything on Laucala, this is a far higher standard than one might expect from your resort pro and their ability to attract top talent is amazing.
Pages
Click here to see the published article.