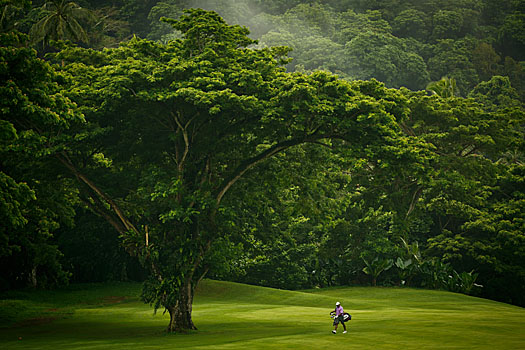 Together with first-class gym and spa facilities, and jaw-dropping standards of food and service, you might feel you are living the life of a billionaire - and in fact, you are! Everything reflects the wishes of the island's owner, Red Bull founder Dietrich Mateschitz, aka "DM". Self-sufficiency is a key objective, and the island boasts a 240-acre farm, large hydroponic greenhouses, a huge herb garden, extensive livestock (including Wagyu cattle, various breeds of pigs, goats, quails and huge Austrian Sulmtaler chickens), as well as the obvious bounties of the surrounding crystal-clear seas. Put such superb fresh ingredients in the hands of Executive Chef Anthony Healy and the results are simply sensational. One might think that there is going to be an enormous amount of waste having fresh ingredients available every day for any eventuality, but suffice to say the staff look happy and well fed!
The ever-attentive employees will delight in telling you that "DM" visits regularly and makes use of all the facilities. He seems to understand that the best way to have everything in perfect shape for his own visits is to have a fortunate few visit the island and keep everything ticking over, the staff alert and stop Chef Healy from going stir crazy! Whilst not intended to be a hugely profitable enterprise, the room rates (you can pay anywhere between US$7,000 and US$25,000 per night) certainly goes a long way to making the resort close to operationally breakeven.
The best food and drink, the finest accommodation, furnishings and design, first-class activities and equipment, superbly trained staff - how could it get any better?
Pages
Click here to see the published article.