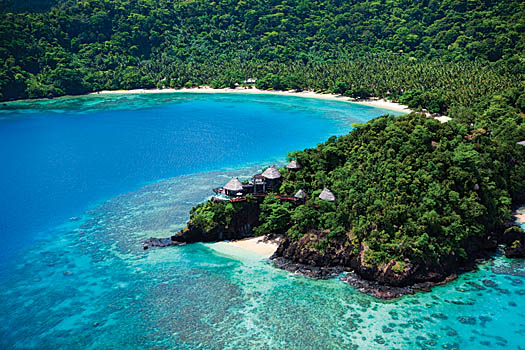 Look no further for the latest addition to your bucket list: Laucala Island Resort. Situated on a private island in the Vanua Levu archipelago in Fiji, it is a mere 50-minute flight from Nadi, the international gateway to these spectacular islands, on the resort's own turboprop aircraft. The resort has become legendary among its well-heeled guests for its relaxing qualities, and that starts at your home airport when you can essentially ignore any delay to your Fiji Airways flight because your connection isn't going anywhere without you! Should any stress remain, a welcome drink, the local band serenading you on arrival and being greeted personally by the general manager takes care of that.
A member of The Leading Hotels of the World, the resort comprises just 25 bures, or villas, the work of London-based contemporary designer Lynne Hunt, most of which have direct access to their own beach. Each has it's own pool, and a truly enormous amount of internal space to wander around in. The resort stretches for almost five kilometers, which ensures you feel you have the place to yourself, but also makes the personal golf buggy a necessity. Hungry? With in-bure or on-beach dining available 24/7, there are also five restaurants, a truly staggering number given the resort's capacity, which means it's highly unlikely there will be any other diners in situ when you visit one.
Every island activity you can think of is included - diving, sailing, windsurfing, fishing, water skiing, horseback riding, hiking - and many more besides. There is even a mini submarine for those who want an underwater tour of the surrounding lagoon. The resort boasts perhaps the highest staff-to-guest ratio in the world, with a workforce approaching 400 looking after the guests, who rarely number more than a dozen or so at a time.
Pages
Click here to see the published article.