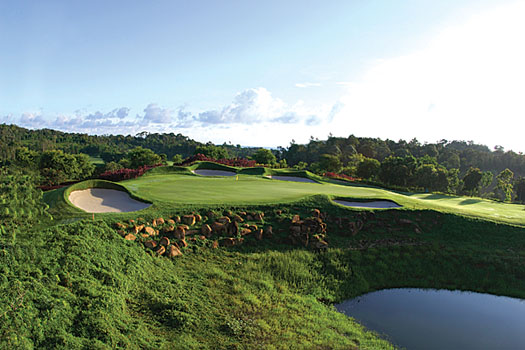 A golfing odyssey to the Riau Archipelago in Indonesia would be a pretty tempting prospect under any circumstances. Located to the east of Sumatra, the cluster of islands boast the full range of alluring Southeast Asian accoutrements.
There are spotless beaches backed by swaying coconut palms, dense forests teeming with exotic wildlife, excellent resorts and, vitally, some genuinely fine courses that wind through jungle and skirt the shores of the shimmering ocean.
What makes the Riau islands really irresistible, however, are their close proximity to Singapore.
While nobody can deny that the city state has many fine golf options, most are priced at the more punitive end of the scale. Many of the best courses, meanwhile, are ostensibly 'members only' which means even more effort needs to be expended if you aim to sweet talk yourself a tee-time.
It is almost as convenient then to eschew Singapore all together and make for Bintan or Batam, the two main islands in the archipelago, which are both a mere 40-minute ferry ride away from Singapore's spiffy Tanah Merah terminal. Indeed, for many Singapore-based golfers, it is rite of passage that takes place as many weekends as child-care and spousal commitments allow. Think of it as a rather more alluring version of what Guangdong province has come to mean to those of us without golf club membership in Hong Kong.
With Tanah Merah being just a short taxi ride from Changi Airport, Bintan and Batam are also perfectly feasible options for a short golfing break for visitors from other parts of Asia.
Most visitors from Singapore to Riau go for the day and practically all the golf courses can organize a package which includes return ferry transfers, passport formalities (an Indonesian visa on arrival costs US$10), transfers to the golf club and green fees. With plentiful ferry links between Bintan and Batam and a range of accommodation options available on both islands, however, it is no hardship to linger in this underrated golf paradise.
Pages
Click here to see the published article.